The John Lewis Holiday Ad Is Here To Make You Cry Every Tear You Have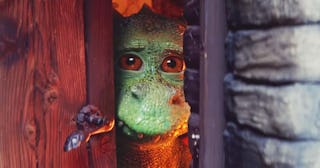 John Lewis & Partners/Youtube
The John Lewis Christmas ad always gets us right in the feels — and this year's no exception
You probably didn't start today thinking you'd have some serious feelings about a cartoon-y fire-breathing dragon, and yet, here we are. John Lewis, a UK-based department store chain, rolls out a yearly holiday ad that always leaves people emotional and the 2019 edition is right on the money when it comes to turning on the waterworks. Caution: you will go through several tissues before it's over.
"Together with Waitrose & Partners, we're excited to share the festive tale of a little girl and her excitable friend, Edgar," their YouTube caption reads. The story of a girl and her dragon buddy, who can't seem to control his fire power, is so touching my dog ran over to make sure I was OK once my sniffling kicked in. Don't say you weren't warned.
HOW do they knock it out of the park every single year? It's like cinema in a 2:30 commercial spot. They manage to tell an epic and emotional story in such a small amount of time, it's honestly mind-blowing.
This year's tale is set in an old-time English village where we meet a young red-headed girl and her friend, a very excitable dragon named Edgar. I was honestly ready to let the tears fly the moment I saw his sweet and hopeful eyes, but then John Lewis went and broke my heart entirely with his predicament. The fire he breathes proves very problematic in pretty much all old-timey English village settings, so the little guy is struggling to make social connections.
He melts a snowman and an entire ice-skating pond and manages to set to flame some beautiful holiday decor that the town had just set up. Through it all, his red-headed pal sticks by him and keeps trying to include him, and that alone is enough to send me us to Emotionsville, but what happens at the end is just perfection.
Edgar may be very different from the other citizens in the village, but his friend wants him to be included no matter what. She waits outside his door after the decor-burning incident sends him into hiding, but he won't come out. Later on while baking some treats in the fire she realizes how Edgar can use his special talent for good — by using his flames to toast the Christmas pudding.
Everyone is pleased after Edgar shows off his skills at Christmas dinner and he's very proud of himself and excuse me while I tear up on and off for the rest of the night.
The whole story is set to a soaring cover of REO Speedwagon's "Can't Fight This Feeling," by Dan Smith from Bastille. It somehow fits the vibe perfectly and only makes the tears come on stronger. Thanks a bunch, John Lewis — I had nothing else to do today besides go through half a box of tissues and send this video to everyone I know.
Edgar's tale joins the list of very moving ads that the company has put out over the years. They always go a little viral and they always get us in our emotions, and we hope they never stop. It's not really the holiday season until we're somehow crying real tears over a pretend dragon.