John Oliver Warns Meghan Markle About Royal Family In Resurfaced 2018 Interview
by Madison Vanderberg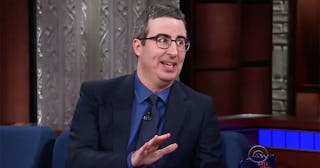 CBS
Old John Oliver interview from 2018 warning Meghan Markle about the royal family resurfaces after Oprah sit-down
After Sunday's explosive Oprah interview with Meghan Markle and Prince Harry, the public is finally learning what Meghan and Harry (but more specifically, Meghan) had to endure as members of the royal family. From racism to tabloid abuse to an outright refusal to allow Meghan access to mental health care, both Meghan and Harry likened their experience in the royal family to being "trapped." Though Meghan admitted to Oprah that she didn't fully understand what she was getting herself involved with when she started dating Harry and even thought that by marrying Harry she could help usher the royal family into a new era of racial inclusivity, John Oliver had a much more cynical (and now we're all realizing, accurate) take on the monarchy and a 2018 interview where he seemingly warned Meghan against marrying into the royal family has resurfaced this week.
During a sit-down with Stephen Colbert in 2018, the late night host asked Oliver if he was excited for Meghan and Harry's upcoming royal wedding. As a U.K. expat, Colbert assumed that Oliver would be thrilled, but Oliver had a different answer.
"I would not blame her if she pulled out of this at the last minute," Oliver said at the time. "I don't think you need to have just seen the pilot episode of The Crown to get a basic sense of she might be marrying into a family that could cause her some emotional complications."
The audience laughed because Americans truly don't know how backwards this family is. We all watch the royal weddings with awe and book vacations to London to ride open bus tours past the Palace and think modern day royalty is like some kind of fairytale. Colbert seemed to agree with this distinctly American-take on the royal family, asking Oliver: "This generation seems like nice people, right?"
Oliver responded with a prolonged "Yeaahhhhh," which definitely meant, "No, but I can't say that on live television."
Doubling down, Oliver added, "I mean, they're an emotionally stunted group of fundamentally flawed people doing a very silly pseudo job. That's what she's marrying into. So I hope she likes it. It's going to be weird for her."
At the time it seemed like a joke, but now in the aftermath of the Oprah interview, Oliver's words read like a very ominous warning.
As someone, very accurately, pointed out on Twitter, "John Oliver is right on so many things, its like he traveled back to the past from one hundred years in the future."
One of the saddest revelations during Meghan's interview with Oprah was when she described how amid negative and racist British tabloid coverage, she felt suicidal and when she asked the Palace for help, they did nothing.
"I just didn't see a solution. I would sit up at night, and I was just, like, I don't understand how all of this is being churned out," she told Oprah. "I just didn't want to be alive anymore. And that was a very clear and real and frightening constant thought."
Since the interview, the Queen has released a statement, claiming that "the whole family is saddened to learn the full extent of how challenging the last few years have been for Harry and Meghan." On behalf of everyone who watched Meghan and Harry unpack their pain on Sunday night, the Palace's message feels a little too late. We hope Meghan and Harry continue to build the thriving new life they deserve.