John Stamos Introduces Baby To 'Full House' Co-Stars In The Cutest Way Possible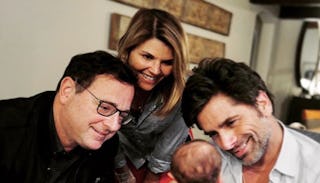 Image via Instagram/John Stamos
Baby Billy Stamos and The Rippers, ready to steal your heart
The stars of Full House have always made it pretty clear they don't just play one big, happy family on television — they consider themselves family in real life, too. If you've ever checked out any of their social media accounts, you can see their friendships regularly blossom before your very eyes. So when John Stamos recently introduced his newborn son, Billy, to some of his co-stars, it was an instant "awwwww" moment.
Behold, baby Billy Stamos meeting Aunt Becky and Danny Tanner. "The Tin Man, Dorothy and The Scarecrow say hi to the cutest of Munchkins," Stamos wrote on Instagram, adding the caption #BillyAndTheRippers, because he knows his target audience.
Wait, hang on a sec — I need my ovaries to calm down before I continue because that is the cutest shit I've seen all week. Where to even begin? The picture itself is adorable, but OMG THAT ONESIE. Jesse and The Rippers. Ready to hit up the Smash Club and steal your girl.
Stamos was the first one to share the news of his baby boy's arrival last month via Instagram.
"Not Just An Uncle Anymore" = we are dead for all eternity. He and wife Caitlin McHugh were married last year in Disney World because they're pretty much the cutest couple ever.
And as we all know, Uncle Jesse has been waiting a long time for his fatherhood dreams to become a reality. He's the last member of the original cast family to begin a family of his own, but it's safe to say his most famous role helped prepare him for this one.
I give you Exhibit A:
Now if you'll excuse me, Billy Stamos' onesie has reminded me of my most favorite Jesse and The Rippers moment. Please show some respect as I play this on a loop all afternoon.