John Stamos' First Photo With His Baby Will Make Your Ovaries Explode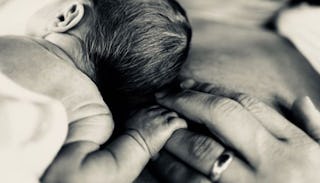 Image via Instagram/John Stamos
John Stamos' baby is here, so Uncle Jesse is now a dad
Our '90s kid hearts are fluttering because John Stamos is officially a dad, and just shared the first (adorable) photo with his baby boy. If you're now sobbing over reruns of Full House wondering if you'll ever see something so pure and sweet again in your life, you're not alone.
In the wee hours of this morning, Stamos took to Instagram with the most goddamn perfect picture I've possibly ever seen. "From now on, the best part of me will always be my wife and my son," he writes.
UGH my ovaries.
He also shares that his little guy is named Billy, after the actor's father. He included the hashtag "NotJustAnUncleAnymore" and a little more of me died of cuteness. We all remember sweet Uncle Jesse with his rockin' mullet, living in his niece's bedroom with the bunny wallpaper, and now he's a dad himself. We can't even.
Stamos and wife Caitlin McHugh, married last year, have been excitedly anticipating parenthood with Stamos talking about the impending babe on Instagram and in interviews.
Earlier this month, Stamos told Entertainment Tonight, "I've waited my whole life for this. I just can't. I'm already so emotional and so excited … I've been dreaming about our baby. I mean, I am really excited."
And it was kind of foretold in his earlier years.
He's been adorably talking up McHugh too and now we all know why Aunt Becky was so smitten. "She's so beautiful pregnant. She's so magical," he told Entertainment Tonight. "She is the most graceful person I've ever met in my life, and she's handling pregnancy like a champ. Every day I say, 'You're doing so great, you're doing so great.' Just every day I'm with her I just realize, first of all, how lucky I am, but what a special human she is. She's magical. She floats into a room. I've never heard her say a bad word about anybody."
UGH too sweet.
Stamos' adorable happiness about finally having a kiddo at age 54 is simply too much for my heart to bear.
"I don't know what I would do if I wasn't having a baby right now," he said. "Like, I've done everything anyone could ever… I've had the most beautiful blessed life on the planet, and the most honest real thing I could do I haven't done."
Let's hope his excitement about new daddyhood means plenty of photos of him and little Billy. If the first one is any indication, they'll all be gush-worthy gems.
This article was originally published on