John Stamos Offers To Be Chachi For 'Happy Days' Reunion Since Scott Baio Sucks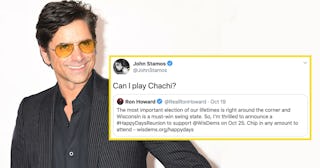 Jeff Kravitz/FilmMagic/Getty and John Stamos/Twitter
'Happy Days' are here again now that Scott Baio is out of the picture
Sunday, Monday, Happy Days. Tuesday, Wednesday, SEE YA CHACHI. Okay, maybe that's not the official new theme song of the beloved sitcom, but Happy Days really are here again if John Stamos temporarily joins the cast in their upcoming virtual reunion.
The gang is getting back together to raise money for the Democratic Party of Wisconsin, which is where the show was originally set. The reunion will be held Sunday, Oct. 25 at 6 p.m., and it'll feature original stars Henry Winkler ("Fonzie"), Ron Howard ("Richie Cunningham"), Don Most ("Ralph Malph"), Anson Williams ("Potsie Weber") and Marion Ross ("Marion Cunningham"), as well as the original writers and a few surprise guests.
You may have noticed someone is missing from this lineup. A loud-and-proud Trump supporter whose name rhymes with Bot? Yeah, that's right, Scott Baio is notably absent from this little gathering to help Democrats. Because the only thing "Charles" is in charge of these days is being a gigantic asshole. Because anyone who proudly supports Donald Trump is a gigantic asshole — those are the rules, sorry!
Ron Howard (Richie Cunningham to those who know) tweeted about the reunion, calling the Nov. 3 election "the most important election of our lifetimes."
Henry Winkler also chimed in because HEYYYYYY now, the Fonz is still as cool as ever.
And because he may have recognized the need for a much better replacement, JESSE KATSOPOLIS HIMSELF has graciously offered to step in for Baio at the reunion, basically swapping one '80s teen idol for another one. A better one. A non-racist, non-homophobe who can croon.
Now in an interesting twist, if you're a true millennial worth your salt, you'll recall that Scott Baio once guest-starred on Full House as Uncle Jesse's old daredevil pal Pete in the episode ominously titled, "Dr. Dare Rides Again." He peer-pressures Jesse into resuming his old partying ways, like popping wheelies on the ledge of a parking garage. Uncle Jesse refuses because he's an uncle now, and uncles stay home and sing Elvis songs to little pink bunnies, duh. SEE YA PETE.
All jokes aside, as Wisconsin is expected to be one of the "battleground" states for the upcoming extremely important election, this virtual Happy Days reunion is a perfect idea.
"We're thrilled a show made famous in Milwaukee is coming back home to help make Donald Trump a one-term President," Ben Wikler, Chair of the Democratic Party of Wisconsin, said in a release. "We know all roads to the White House go through the Badger State, and with the cast of Happy Days helping us raise money to take back the White House, we believe even more we can deliver a victory on November 3rd."