Uncle Jesse's Birthday Message To Aunt Becky Will Melt Your Heart
by Julie Scagell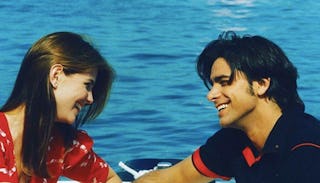 Image via Instagram/John Stamos
Loughlin turned 54 on July 28th and maybe (maybe) looks 34
Whether you love your birthday or not, getting Happy Birthday messages from the ones you love is always lovely. But when you're Lori Loughlin and you get sweet messages from your Full (and Fuller) House hubby, John Stamos, it's got to be just a wee bit sweeter. Aunt Becky + Uncle Jesse FOREVER.
"Been Jesse to your Rebecca for 30 years. 30 more, then that's it!" he wrote to his former co-star on Instagram. "I don't for one second take for granted your talent, your heart and most importantly, our friendship. Happy Birthday Lori, XO." Stamos' well wishes were posted next to the most adorable picture of the duo on the planet. For reals.
The pair have been close pals for decades and their on and off screen chemistry is the stuff of legends — so much so fans have constantly pestered them about getting married in real life. Luckily their spouses, Mossimo Giannulli whom Loughlin wed in 1997, and Caitlin McHugh, Stamos' wife (and mom of his first child), are equally enamored with Jesse and Becky.
"Oh my gosh, [my husband] loves John," she told AOL last year. "He has a great sense of humor about it. I'm not offended by it, I actually think it's very sweet that people are so emotionally involved in the Jesse and Becky characters, that they really want to see this onscreen couple that they love so much be an off-screen couple too. Just know, we are great friends and we do love each other," Loughlin said.
Stamos wasn't the only one to wish his cast-mate a happy day; she shared a sweet birthday serenade on her Instagram as well from the entire Fuller House crew:
https://www.instagram.com/p/Blv1Al3H1bP/?taken-by=loriloughlin
It's impossible not to adore this cast. Full House originally debuted in 1987 and ran almost ten years. A lot of us grew up on the show and dammit, we are here for all of the birthday messages. And just when we thought we'd be destined to watch reruns forever, Netflix picked up the sequel, Fuller House, and our '90s hearts skipped a beat in gratitude.
https://www.instagram.com/p/Blx4qCfDWXb/?taken-by=loriloughlin
The chemistry the cast has is obvious, and who doesn't love coworkers who eventually become family? Some of my dearest friends are from places I've worked. Sometimes, you talk to these people almost as much (or more in some cases) than your family.
This isn't the first time Stamos has gushed over Loughlin on her big day. Last year's message was equally as adorable — and true — because…have you seen her lately?
Here's hoping we all have a John Stamos in our lives to make us feel special on our big day.