Johnson & Johnson Pauses COVID Vaccine Trial After Patient Falls Ill
by Christina Marfice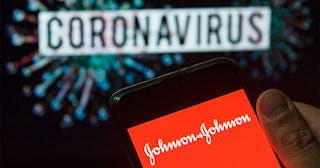 SOPA Images/Getty
Johnson & Johnson announced on Monday that they're pausing their COVID vaccine trial to investigate a participant's unexplained illness
As drugmakers around the world race to create a coronavirus vaccine that can pass clinical trials and help bring an end to the global pandemic, a number of them are getting closer, with vaccines currently in large-scale clinical tests where they're being administered to large numbers of volunteers. But Johnson & Johnson, one of the companies with a vaccine in Phase III trials, just announced that it's pausing its COVID vaccine tests after one trial participant came down with an "unexplained illness."
The company issued a statement Monday, saying, "We have temporarily paused further dosing in all our COVID-19 vaccine candidate clinical trials, including the Phase 3 Ensemble trial, due to an unexplained illness in a study participant."
Johnson & Johnson's Phase III trial began in September and aimed to enroll as many as 60,000 volunteers to test the vaccine, in the U.S., Argentina, Brazil, and several other countries. The company didn't immediately disclose any other information about the illness that the trial participant was suffering from, but said that details had been given to an independent board that will investigate a possible link between the illness and the experimental vaccine. Representatives from Johnson & Johnson did say that they hope to have their study back up and running within a few days.
This is the second time that a major clinical trial for a COVID-19 vaccine has been halted because someone experienced a potential adverse effect of the vaccine. Last month, AstraZeneca paused its clinical trials after a participant in the U.K. fell suddenly ill. While that company's U.K. study has resumed, its larger clinical trial in the U.S. is still on hold while a thorough investigation takes place.
It's worth noting that illnesses and side effects are to be expected in a large-scale drug trial, and it's entirely possible that the participant's illness isn't related to the vaccine. However, if any of the COVID vaccines currently in late-stage clinical trials are approved for public use, it will shatter the previous record for vaccine development, taking it from around four years to less than one.
Johnson & Johnson is one of a handful of companies nearing the end of safety and efficacy tests. Others include AstraZeneca, Moderna Inc. and Pfizer Inc. Officials at all four companies have been hopeful that they might have results from their clinical trials available by the end of this year or early 2021, and that if any of their vaccines proves safe and effective at stopping COVID infections, it could be available to the public sometime next year.