JoJo Siwa Comes Out As Gay In Now-Iconic Tweet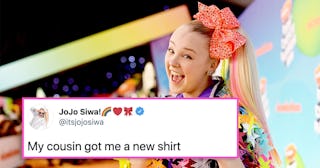 Matt Winkelmeyer/Getty and Jojo Siwa/Twitter
The massively popular kids' pop star posted to Twitter a photo of herself wearing a 'Best Gay Cousin Ever' shirt
For those who don't know, JoJo Siwa is a big deal — a very big deal — among kids. The 17-year-old pop star and YouTube personality, known for her super-sparkly outfits and larger-than-life, colorful bows, boasts millions of fans, a majority of whom are young teens and kids. And while Siwa is no stranger to making major waves on the Internet with her original, rainbow-hued content, a recent TikTok video and an even more recent tweet of hers has downright broken the Internet — and for good reason.
Posted to both Twitter and her Instagram Stories today, Siwa shared a photo of herself wearing her signature oversized, sequined bow (it's so popular, she's sold a staggering 60 million of them to fans) and a T-shirt that reads, "BEST. GAY. COUSIN. EVER."
"Thanks for the shirt cousin," Siwa captioned the pic.
And believe us when we say, fans freaked TF out, applauding the teen with millions of young followers for publicly coming out.
"JoJo Siwa coming out is so important," wrote one user. "Her audience is younger and kids being able to look up to someone that's NOT straight could help them discover themselves and hopefully make future generations even more open-minded."
It even caught the attention of Lil Nas X, who publicly came out on Twitter in June 2019. "if u spell 'swag' backwards, it's 'gay.' coincidence??" he wrote.
The now-iconic tweet follows Siwa's now-viral TikTok posted earlier this week to her more than 31 million (and counting!) followers. In the video, which now has more than 4.5 million likes and 25 million views, Siwa's seen lip-syncing to LGBTQ anthem, Lady Gaga's "Born This Way."
"This feels like a big deal if it is what I think it is," tweeted New York Magazine and HuffPost contributor Yashar Ali. "JoJo Siwa is hugely popular with kids. And as someone just pointed out, if it is what I think it is, she's doing it at the height of her fame when she's selling out arenas."
Siwa was also featured in a video posted by Kent Boyd, a member of the LGBTQ TikTok group Pride House, where she dances along to Paramore's "Ain't It Fun" and lip-synchs the lyrics "now you're one of us."
And let's not forget the video Siwa posted to her TikTok last spring, where she's seen trading her trademark high ponytail and glittery outfit for long, wavy hair and a black T-shirt.
Since Siwa shared the photo of her new T-shirt, it's quickly gone viral, amassing more than 265K likes in just one hour.
"JoJo Siwa coming out on her own terms so publicly and with such joy is SO significant," tweeted singer Jack Remmington. "She is a 17 year old international sensation with young fans all over the world who will see themselves in her, many of whom will be queer. I'm so so happy for her and them."