JoJo Siwa's Latest Dance Was A Nod To Queer 'Descendants' Fans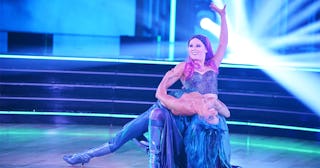 Eric McCandless/ABC
JoJo Siwa and Jenna Johnson dressed as Evie and Mal from Disney's The Descendants for their latest dance, and it was a big nod to the show's LGBTQ+ fans
Surprising no one, JoJo Siwa continues to crush it during her turn on Dancing With the Stars. The YouTube creator returned to the stage this week for part two of the show's Disney Heroes and Villains event with a fast moving Paso Doble dance set to the song, "Ways to Be Wicked." But what really got fans talking about the dance was the fact that Siwa and her pro partner, Jenna Johnson, dressed as Evie and Mal from the Disney film series The Descendants.
For those who aren't familiar with the show, Evie (played by Sofia Carson) and Mal (played by Dove Cameron) are two characters who are extremely popular with fans — but especially with LGBTQ+ fans who love to ship the duo because of their close friendship and on-screen chemistry. As a further tribute, the song Siwa danced to was performed by Cameron and Carson.
In her intro package, Siwa confessed to Johnson, "I've had the whole world against me at times," and explained that she saw the powerful performance as a way to clap back at anyone who's bullied her in her life.
The dance was fast, packed with energy, and visually stunning, taking place on a stage set with laser lights and fire effects. But unfortunately, the judges were less impressed than they've been with some of Siwa's past performances on DWTS.
"I didn't think it was your best dance. It felt a little hectic," Carrie Ann Inaba said, though Len Goodman added, "It possibly could have been hectic, but for me, it had control."
But who needs the judges, anyway? Siwa continued to be a fan favorite online, where her supporters flocked to rave about her performance.
This was all after Siwa made a huge splash during the first part of the Disney event, when she danced a gorgeous Viennese waltz dressed as Cinderella's Prince Charming. Unsurprisingly, that dance became instantly iconic for fans — but the judges also adored it, giving Siwa the first 9s of the season and tying her for the top score of the night.
Despite lower scores for her Villain dance, Siwa remains a fan favorite this season — but what's even more important is how she's making history as an openly queer contestant in the first same-sex partnership in the show's history. No matter how Siwa does on the show, that's a big win for representation.