JoJo Siwa Opened Up About 'Falling In Love' In Sweet Valentine's Post
by Christina Marfice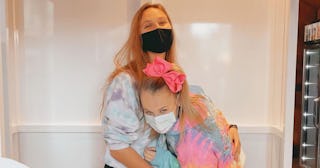 Jojo Siwa/Instagram
JoJo Siwa says she's "fallen in love" with her girlfriend Kylie, and we're so here for this adorable romance
It's been a whirlwind month for JoJo Siwa, who came out as a member of the LGBTQ+ community and went Instagram official with her girlfriend, Kylie, all in just the last few weeks. Over the weekend, she marked their first Valentine's Day together with an adorable Instagram post talking about how she's already "fallen in love."
"It's my first Valentine's Day!" Siwa wrote alongside an adorable photo of Kylie giving her a piggyback ride. "No one in the world makes me as happy as this girl does."
She added, "I'm so thankful to have fallen in love with the most perfect person ever who makes me smile 24/7. I love you more than you'll ever know!"
Remember being young and that in love? Ugh, you just love to see it.
Siwa's feeling appears to be mutual — Kylie posted a sweet tribute on her own Instagram last week, telling her fans, "Fall in love with your best friend, guys."
"It's THE BEST feeling in the entire world," she continued. "here's to one month with my favorite human 🙂 i love you sharky."
Siwa first publicly came out just a few weeks ago, when she first posted a Tik Tok video singing along with Lady Gaga's "Born This Way," and later posted a photo of herself in a T-shirt gifted to her by her cousin that read, "Best. Gay. Cousin. Ever." Fans everywhere flooded her comments to congratulate her and show their support for their favorite teen pop star.
She's been a bundle of happiness every since, and we've been pretty much in awe of her bravery the entire time. And naturally, we cheered for Siwa when she went on The Tonight Show and revealed that she has a girlfriend, who helped encourage her to come out. Her joy is just downright contagious.
"I do have the most amazing, wonderful, perfect, most beautiful girlfriend in the whole world," she said at the time. "My cousin had gotten me that shirt — I took that picture like a week before I posted it — and I put it on my close friends Instagram story. I was on FaceTime with [my girlfriend], and we were just talking about all the love that came in, and we were both like, 'Technically I still haven't confirmed it.' I was like, 'I kind of just want to post this picture on my real story.' She was super encouraging."
Congrats on finding someone so special, JoJo Siwa!