Here's JoJo Siwa's Perfect Score Dance From Last Night
by Christina Marfice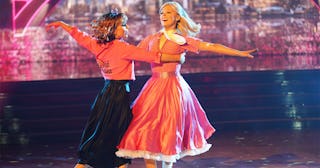 Christopher Willard/ABC
JoJo Siwa's Grease-themed Foxtrot earned her the first perfect score of any contestant on her season of Dancing With the Stars
We don't like to pick favorites, but if you asked us who our favorite is on the current season of Dancing With the Stars, well, it's kind of a no-brainer: JoJo Siwa. The inspirational YouTube star is also a fan favorite and a frontrunner for the season as she tears up the dance floor week after week. After last week's dance earned her the first 9-out-of-10 scores of the season, Siwa returned to the stage this week for another milestone: Her season's first perfect score.
It was incredibly well-deserved. Siwa and her pro partner Jenna Johnson dressed in costumes from Grease to perform their Foxtrot to "Look at Me, I'm Sandra Dee" from the classic musical. As they glided across the stage together, their movements and expressions perfectly matched the music, making for a chill-inducing performance.
After their routine, the judges were so excited to give feedback that Len Goodman actually gave his standing up.
"You affected my brain with the quality of the technique, you affect my heart with the artistry that you produced. It was superb," he said.
Derek Hough added, "I absolutely love this partnership. That was a moment!"
Bruno Tonioli said he was "still shivering" several moments after the dance ended, and Carrie Ann Inaba was last to give her feedback, stating simply, "You leave me nothing to say, other than this was perfection."
Perfection is what the scores showed, too. When the judges finally revealed them, Siwa and Johnson had earned four perfect 10s. They were the first dancers on their season to earn a 10 from a judge, let alone four of them for one dance.
Obviously, Siwa was over the moon about her perfect score.
"WOW!!!!! I have literally no words!!!!" she wrote on Instagram after the episode aired. "I am on cloud 528183629 right now!!"
Siwa continued, "The amount of respect that I have for all 4 judges… is massive so to get a perfect 10 from all 4 of them tonight means SO much to me!!! To be a part of dancing with the stars is something that I've always dreamed of… and now…. This is my reality!!!!"
Siwa also gave a nod to her dance partner, with whom she is making history as part of the U.S. show's first-ever same-sex couple.
"I'm SO so so appreciative for @jennajohnson for not only being the best mentor/pro for the last 7 weeks, but also being the best friend," she wrote. "I've been through thick and thicker in the last few weeks and she's been there for me every second that I need her to be!! This show would not be the same with anyone else! Tonight we shared the story of OUR friendship that we've gained over the last few weeks and I couldn't be happier. This dance and this moment is something that I will cherish forever and EVER!!!!!!!"