School Shooter Writes Letter From Prison Praising Parkland Students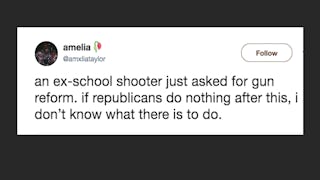 Image via Twitter
Jon Romano now says he's in favor of stricter gun laws and mental health reform
Nearly 14 years ago, a high school student named Jon Romano walked into Columbia High School in New York with a pump-action shotgun. He fired two rounds before the school's principal was able to tackle and restrain him.
He recently wrote a letter to a newspaper editor expressing his support for better gun control legislation and the activism shown by Stoneman Douglas students.
Romano, who has been incarcerated since the 2004 incident, was 16 years old when he attempted the mass shooting. Before John Sawchuk — the principal who intervened — was able to restrain Romano, he shot a teacher in the leg. The school's 1,400 students were held in a panicked lockdown, calling their parents and hiding under desks. Thanks to Sawchuk's actions, no one died, nor was anyone was seriously injured — a rare occurrence when it comes to gun violence.
Sawchuk told Albany's Times Union if Romano had entered the school that day with an AR-15 in hand instead of the pump-action shotgun, "a lot of people would be dead."
In his response letter written to the newspaper, Romano agrees. He begins by calling Sawchuk "a hero who I owe my life to." He then expresses remorse for his actions that day.
"I know that every time another horrible shooting happens, he and all of my victims are hurt all over again by what I did to them," he writes. "I want to take away their pain, but knowing I cannot, I want to prevent others from experiencing this pain."
Romano, who is eligible for parole in 2021, says upon his release he intends to "advocate for gun safety and mental health reform." He also praises the activism shown by Stoneman Douglas students in the wake of their own mass shooting, calling them "courageous and inspiring" for demanding change from legislators.
"Everyone nationwide should follow and accept nothing less than meaningful, life-saving policy changes from their representatives," he writes. "Only then could this generation be the last generation that lives in a nation plagued by gun violence."
This entire story is, at the very least, unprecedented — most mass shooters wind up killing themselves, or go on to express no regret whatsoever behind bars. Thank goodness for the brave principal who was able to intervene — who knows how many lives he ended up saving that day.
People are talking about Romano and his letter on Twitter, with many people acknowledging the importance of his words amid the current political climate.
https://twitter.com/jetpack/status/970168784995733505
While weapons like the AR-15 were illegal nationwide back in 2004 when Romano's attempted Columbia High School shooting occurred, Sawchuk told the newspaper he doesn't see why those types of firearms are legal now.
"I don't know any reason why somebody would want a gun like that."