Jon Stewart Rips Into Congress Over Healthcare For 9/11 First Responders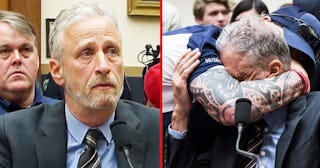 ABC News and Zach Gibson/Getty
Jon Stewart is fighting tirelessly for these heroes because Congress clearly won't
Jon Stewart is going viral after his emotional, passionate speech at a congressional committee meeting, where he ripped into committee members for failing to show up. They were discussing healthcare funding for 9/11 first responders, and those heroes were there. Half the committee, however, was not.
"As I sit here today, I can't help but think, what an incredible metaphor this room is for the entire process that getting health care and benefits for 9/11 first responders has come to," Stewart said to a few members of Congress and a bunch of empty chairs, while many of the first responders he's fighting for sat behind him. "Behind me, a filled room of 9/11 first responders, and in front of me, a nearly empty Congress."
As Stewart continued his remarks, he had to pause multiple times because he was choked up or wiping away tears.
"Sick and dying, they brought themselves down here to speak to no one," he said. "Shameful. It's an embarrassment to the country and it is a stain on this institution. And you should be ashamed of yourselves for those that aren't here. But you won't be, because accountability doesn't appear to be something that occurs in this chamber."
Stewart has been advocating tirelessly for benefits for the first responders of the 9/11 attacks for years. At this meeting, the topic was the September 11th Victim Compensation Fund, which is funded by federal taxes and used to pay for healthcare for the people who responded to the terrorist attacks and have suffered a number of health problems in the years since. The fund is set to expire in 2020, and lawmakers have announced plans to cut payouts by up to 70 percent as funding runs dry. Meanwhile, those first responders have continued to battle injuries and illnesses, some related to their heroic efforts at Ground Zero so many years ago.
Stewart also called out the hypocrisy of lawmakers who claim to support first responders.
"There is not a person here, there is not an empty chair on that stage, that didn't tweet out, 'Never forget the heroes of 9/11,'" he said. "Well, here they are! And where are they? Your indifference cost these men and women their most valuable commodity — time!"
At this point, Stewart had to take another pause to compose himself. Brushing tears from his eyes, he added, "Time is the one thing they're running out of."
Truly, these heroes deserve better from Congress. They were the bravest people on the ground that day. They risked their lives to save others when an unthinkable tragedy occurred, and we made a promise to take care of them. The fact that they're having to fight this hard just for healthcare is sickening.
As Jon Stewart put it in his final, tearful address to the few members of Congress who showed up to hear him, "They did their jobs with courage, grace, tenacity, humility. 18 years later, do yours!"