Jonah Hill's New Tattoo Honoring His Sister's Success Is Why Siblings Are The Best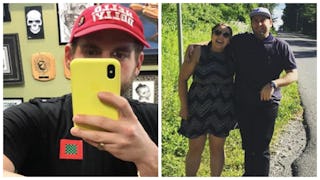 Image via Instagram/Beanie Feldstein
The relationship between Jonah Hill and Beanie Feldstein is sibling goals
Siblings share a very unique, very specific kind of bond — no matter how old you are, or how close you are, the bond is still there. But it's extra awesome when you have a really good relationship with your sibling(s). Jonah Hill's relationship with his sister, Beanie Feldstein, appears to be the awesome kind of sibling relationship.
Jonah isn't the only star of the family — Beanie is most recently known for her fantastic co-starring role in Lady Bird. She's even headlining Hello, Dolly! on Broadway alongside Bette Midler right now. I mean, does it get any better than Broadway with The Divine Miss M? (No. No it doesn't.) So yeah, Beanie is on fire right now. And being the proud big brother he is, Jonah decided to honor his sister in the most perfect (and permanent) way possible.
He got a tattoo on his forearm that says, "Hello Beanie." HOW CUTE IS THAT? Bonus points for the tattoo being in the show's signature font. Next level, indeed.
Beanie told PEOPLE that landing the role in the musical that turned big brother Jonah into a musical theatre lover. "Now he loves theater and he wears his Hello, Dolly! hat around wherever he goes," she says. She apparently made him watch a documentary about Stephen Sondheim's Merrily We Roll Along and he became an instant fan. "One day I came back from whatever I was doing and I had 10 texts from him and it was like, 'Beanie, I love Sondheim. I'm obsessed with him.' Like, yes! Finally. He's coming around. He's starting to get it more."
YASSSSS. As a musical theatre kid myself, loving Sondheim is basically a requirement.
The bond between Beanie and Jonah is undeniably sweet — especially after they suffered a heartbreaking loss with the sudden death of their older brother in December. Jordan Feldstein, a successful music manager, died from a pulmonary thromboembolism, resulting from a blood clot that originated in his leg.
While not everyone may be as close to their siblings as these two are, I know what it's like to love a sibling so much you want to permanently honor them in some way. My sister is my literal lifeline in every single way — literal and metaphorical. Always has been, always will be. So about three years ago, when I learned I was expecting a little girl, I decided to give her the same middle name as my little sister. It was a no-brainer.
Being the older sibling has been one of the greatest privileges of my life. So, cheers to all the Jonah Hills and Beanie Feldsteins of the world.