Jonah Hill Opens Up About Learning To Love His Body In Honest Post
by Madison Vanderberg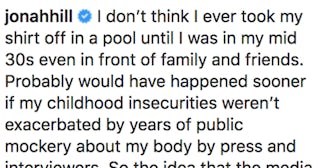 Jonah Hill Instagram
Jonah Hill shares body positive Instagram post after The Daily Mail attempt to shame him over shirtless surfing pics
Jonah Hill, probably best known for being that funny guy in those stoner movies and then that Oscar winner in those prestige movies, bubbled to the top of my Instagram explore page today — not for an acting role, but for a transparent, honest, and body positive Instagram post after The Daily Mail attempted to body-shame the actor as he joyfully went surfing. In a post sharing how he came to love his body over the last thirty plus years, he said his words will hopefully be heard by "the kids who don't take their shirt off at the pool."
RELATED: How To Love Yourself Because, ICYMI, You're Really F***ing Awesome
Body shaming is kind of The Daily Mail's bread and butter, which is why it's so radical and awesome when the celeb at the center of one of their stories stands up and embraces their body, thereby making Daily Mail and their toxic articles more and more irrelevant every day. The U.K. tabloid shared photos of a very happy Hill surfing in LA, with the intention being that they "caught him" in a shirtless moment.
Hill, completed unfazed — and perhaps thrilled that The Daily Mail caught an image of him looking so incredibly happy — shared the headline and the tabloid's photos on his Instagram along with a post on how he came to love his body despite the tabloid's best efforts to make him feel ashamed.
"I don't think I ever took my shirt off in a pool until I was in my mid 30s even in front of family and friends," Hill wrote. "Probably would have happened sooner if my childhood insecurities weren't exacerbated by years of public mockery about my body by press and interviewers."
"So the idea that the media tries to play me by stalking me while surfing and printing photos like this and it can't phase me anymore is dope," he added. "I'm 37 and finally love and accept myself. This isn't a 'good for me' post . And it's definitely not a 'feel bad for me post'. It's for the the kids who don't take their shirt off at the pool. Have fun. You're wonderful and awesome and perfect. All my love."
His post was met with all sorts of love, including this sweet comment from his sister Beanie Feldstein. "You're the best in the world i love you," she wrote.
He punctuated his post with a triumphant, "Oh and Daily Mail, not even you can take that smile from my face."
We love to see it Jonah!
This article was originally published on