The Jonas Brothers Are Reuniting And No, YOU'RE Freaking Out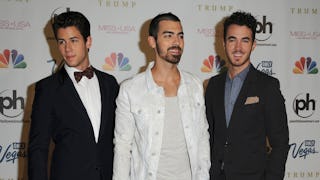 Image via Getty Images/ Mindy Small
The band has been doing their own thing since 2013
The Jonas Brothers are getting back together. I repeat: The Jonas Brothers are reuniting (it took everything not to type that last sentence in all caps). No, this is not a drill and yes, you are allowed to jump up and down like a teenager no matter how old you may be.
It's been six long years since Joe, Nick, and Kevin called it splitsville on their band, any new music (together), and any world tours, and life has been just a little less exciting ever since.
https://www.instagram.com/p/b9FGE-oARV/
But sometimes we can have nice things and when they reactivated their Instagram account last year, it had fans freaking the hell out that there may be a reunion in the future. Fast-forward one year and many attempts at squashing the rumors and it seems it's as official as it can be.
The sibs, who sold 20 million records worldwide, aren't just getting back together, they are changing their band name from The Jonas Brothers to JONAS. Perhaps it's an attempt at maturity? Solidarity? Whatever, we won't hold it against them.
Not to open old wounds, but Joe explained why they initially broke up during an interview with radio station KDWB, saying, "We decided to take a break because, I think, in this crazy world that looks a lot of fun it's also really kind of stressful and crazy at times. We had so many individual ideas — whether it was personal or business wise — that we wanted to venture out in. Having that time to do it was really refreshing."
During the past six years, Joe got engaged to Game of Thrones star Sophie Turner while also touring with his band, DNCE. Nick wed actress Priyanka Chopra, released a couple solo albums, and starred in the 2017 blockbuster Jumanji: Welcome To The Jungle. He also sat next to a very big fan's dad who hilariously had no idea who he was:
Kevin became an entrepreneur, starred on Celebrity Apprentice, and became a father of two daughters with wife, Danielle. He was open about that role, admitting that it took him a while to adjust to fatherhood.
https://www.instagram.com/p/bozNkIoAV6/
But none of this matters now because they are getting back together and we will all live happily ever after, forever and ever, amen.
The trio plan to release new music as well as a documentary about their comeback. "This is going to be one of the biggest music reunions in years. "It's no secret that things weren't great by the end of the Jonas Brothers, but blood is thicker than water and they've healed their rift in the years since the split," an insider told The Sun. "After enjoying solo music success and taking time to work on passion projects, they feel that now is the right time to get back together."
The world will just be waiting on pins and needles for the first track to drop. Seriously though, take your time. We have the Backstreet Boys to help us through until then.