Jonathan Van Ness reacting to his Emmy nomination will make your day so much better
Are you ready to see the purest, sweetest, and most delightful video of the day? Queer Eye's Jonathan Van Ness found out that he was nominated for an Emmy and his excitement will make your heart glow. Bonus points: Antoni, Karamo, Tan, and Bobby were all there to cheer him on.
Van Ness is up for two awards: Outstanding Short Form Variety Series for his Funny or Die web series Gay of Thrones and Outstanding Structured Reality Program for Queer Eye. Can you BELIEVE. His reaction involves crying, bobbing up and down, and jumping up and down. Also, the whole rest of the Queer Eye cast was there to give him lots and lots of hugs.
It probably doesn't need saying again, but these guys are the best things happening in 2018.
The rest of the internet was screaming YAHHHHS KWEEN along with the Fab Five.
Bobby's there like "I'm gonna build him the biggest and best trophy case and maybe also renovate his whole apartment and I guess also re-do the entire city of Los Angeles"

— Slade (@Slade) July 12, 2018
Watching the video of @jvn reacting to his Emmy Nomination for Gay of Thrones made me too emotional bc the rest of the Fab 5 were so excited for him too😭 also, I can't think of another show more deserving of 4 nominations than @QueerEye @antoni @tanfrance @KaramoBrown @bobbyberk

— Meredith Peck (@meredithraye) July 12, 2018
@jvn reacting to the great news is possibly the cutest thing I will see today! I'm so excited for you all and congratulations again on the Emmy Nominations ❤ https://t.co/vqTZypvfPq

— Cleo 🦋🥺 (@Peterslostgirl4) July 12, 2018
THIS IS THE PURE CONTENT MY HEART NEEDED TODAY!!! Congrats to @jvn and the rest of team @QueerEye ❤️❤️❤️ https://t.co/NG4UbqGcXd

— Alp Ozcelik (@alplicable) July 12, 2018
This is the most precious video on earth rn
Congrats @jvn @QueerEye !!!! https://t.co/NcK1slX5VT

— Tiff ❄️ (@tiffis12) July 12, 2018
Van Ness took to Instagram and shared a snapshot from the day, along with the caption: "Thanks for all the support today & no matter how many no's you encounter don't quit."
It's especially cool knowing that Van Ness's Emmy nominated webseries started as a scrappy idea in a hair salon.
"I was with my co-worker, and her client was telling her about how much he hated 'Game of Thrones' and why he couldn't watch it," he told The New York Times. "It made my ears fall off. I went into this fugue state of a recap. When I was done, my client in my chair, Erin Gibson, was like, 'Oh, my god, Jonathan, we have to do that for 'Funny or Die'!' It was only meant to be one episode, but that episode went viral. Five years later, we're still doing it."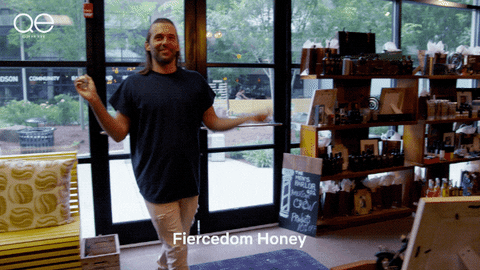 It's very, very hard to pick a favorite from the Queer Eye cast (I refuse to do it), but Van Ness is definitely the biggest ball of sunshine in the cast. And he's had to push through a really, really difficult upbringing. The groomer grew up in Quincy, Illinois where he was bullied for being out from a young age.
"It was a terrible environment. I don't think it's overdramatic to say that I was verbally abused, like, very constantly on an hour-to-hour basis, especially in school," he recalled. "That's partially where I got my sense of humor from, because I really had to learn how to be resourceful to keep a smile on my face and to keep myself entertained."