Jonathan Van Ness Urges HIV+ People To Check Vaccine Eligibility In Their State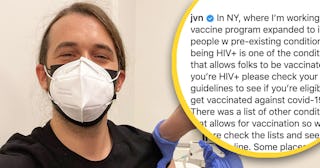 Jonathan Van Ness/Instagram
"Queer Eye's" Jonathan Van Ness is urging fellow HIV+ folks to see if they're currently eligible to receive the COVID vaccine
Jonathan Van Ness is using his platform to urge the HIV positive community to find out if their state will allow them to get the COVID-19 vaccine yet. He shared a photo of himself receiving the vaccine in order to encourage others to do the same. Because he's an actual angel.
Van Ness took to Instagram with the important message and a snap of his own vaccine moment. "In NY, where I'm working the vaccine program expanded to include people w pre-existing conditions, being HIV+ is one of the conditions that allows folks to be vaccinated, so if you're HIV+ please check your states guidelines to see if you're eligible and get vaccinated against covid-19!" he writes.
Van Ness opened up in 2019 about his own HIV status telling The New York Times of his decision to share the news publicly. "When Queer Eye came out, it was really difficult because I was like, 'Do I want to talk about my status?," he said. "And then I was like, 'The Trump administration has done everything they can do to have the stigmatization of the L.G.B.T. community thrive around me.'" Because of this, he said, "I do feel the need to talk about this."
"These are all difficult subjects to talk about on a makeover show about hair and makeup," he said. "That doesn't mean Queer Eye is less valid, but I want people to realize you're never too broken to be fixed."
Van Ness using his voice to help others is now more important than ever as vulnerable populations are becoming COVID vaccine-eligible. Depending on which state, some people who live with HIV may already be able to get the vaccine, including New York residents, which is where he got his shot.
"There was a list of other conditions that allows for vaccination so wherever you are check the lists and see if you can get in line. Some places like Cali will give leftover doses but just see what's happening in your area," he shares.
Then he touches on an issue that many are grappling with as they join the rush to secure their dose. "Had I not been looking online everyday I wouldn't have seen, so def get involved with your search."
The star also shared how he felt after receiving the shot. "This was my first shot and other than minor soreness in my arm had no side effects and will get my second shot in a few weeks," he says. "Each state has different guidelines so you'll want to look into yours. Definitely need patience, resolve, access to internet to do this so plz if you can help others obtain information or access plz so that."
Do as JVN says and find out if and when you're eligible to receive this all-important vaccine.