Can You Believe?: Jonathan Van Ness And Jameela Jamil Rocked The Same Dress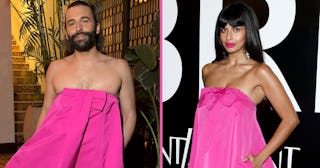 Charley Gallay/Brian Ach/Getty
Jonathan Van Ness and Jameela Jamil wore the same dress and we can't get enough
In one week, a pair of our biggest icons wore the same dress. Can you believe? One says the other rocked it better but TBH, we're in love with both looks. Last night, Queer Eye's Jonathan Van Ness sported a stunning hot pink Rochas gown on a night out with his fellow cast members. Only days earlier, actress and body-positive champion Jameela Jamil wore it too. Naturally, she took to Instagram immediately to let Van Ness know what she thought about their "twinning."
Van Ness posted to the 'Gram last night to proudly share that he "stayed out past 10pm 2 nights in a row & I felt fucking gorgeous doing it." And yes, "fucking gorgeous" only barely touches how fantastic he looked.
Clearly, this dress has a certain something because about a week prior, Jamil made an appearance at New York Fashion Week looking every inch an absolute damn vision in the same gown. She happily noted that it had pockets, because hello.
Only an hour or so after JVN shared his photos in the dress, Jamil posted a side-by-side of them both with the caption, "YOU DON'T NEED TO SAY IT. I KNOW @jvn WORE IT BEST!" She included the hashtag #weslayallday because obviously, they do.
https://www.instagram.com/p/B2e5CDmlfBV/
Now, if pressed, we'd struggle to decide "who wore it best." They both look jaw-droppingly perfect and we're going to call it a draw, but it's understandable that Jamil would want to pay tribute, because look at him.
Van Ness is clearly loving his Queer Eye life in the spotlight because it means getting to live out his dream of working with high fashion and even appearing on magazine covers. In a recent post, he shared photos from a cover shoot for Gay Times. "I put a LIFETIME of America's Next Model Obsession & hoping I'd be a covergurl someday into my debut @gaytimes cover shoot. My friend & stylist Alison @alibstyle made like my fairy stylist god mother she is and came to slay," he gushed.
Of course, JVN's hot pink gown was only one of two big fashion moments he had this weekend. He appeared on the Creative Arts Emmys red carpet in yet another eyeball-popping ensemble that we would like to borrow immediately even if the only place we have to wear it is Target.
https://www.instagram.com/p/B2b-ALyARSD/