Jonathan Van Ness Virtually Officiates Couple's Wedding
by Valerie Williams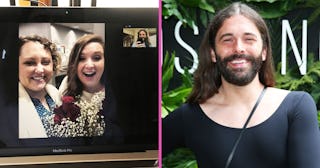 Jonathan Van Ness/Instagram and Don Arnold/Getty
Jonathan Van Ness was only too thrilled to preside over the happy couple's big moment
In this time of global pandemic and daily uncertainty over how long we'll be quarantined and what the outcomes will be across the world, we can use every bit of joy we can possibly get. Today's biggest shot of happy? Jonathan Van Ness gleefully officiating a couple's wedding after they messaged him on Instagram telling him they'd gone to see his show on their first date.
"Something told me to check my DMs yesterday. I found a message from Stephanie @laxpirate, explaining that she and her fiancé Samantha @punny_lane had their first date at my show in Indianapolis last summer and now in light of cancelling their planned big wedding if I could virtually officiate," he shares. So of course, he did.
https://www.instagram.com/p/B-fEidMgLBd/?igshid=fkfg9oaaaotl
"Oh, my god, I now pronounce you wife and wife," he said excitedly after the couple's big moment. Van Ness then proceeded with his particular brand of adorable gush over the happy couple and how the whole thing went down.
"You did it!" he squealed. "You look beautiful. Oh, my gosh, it was like Mother Nature or something told me, like, 'Check your DMs,' and yours was at the top of my list," adding, "It was so meant to be. And I'm just so happy you included me in your special day."
https://www.instagram.com/p/B-pV8KhAGFn/
But that's not all — Stephanie and Samantha did something special to honor JVN and thank him for officiating. The pair made a donation to the Damien Center, an Indiana non-profit that provides services to those living with HIV and AIDS. Van Ness shared last year in his memoir Over the Top that he's HIV-positive.
"I'm so so happy for these two & that I checked that message. Young inner child me is so happy seeing queer love win in the Midwest," he concluded in his post.
We're happy he checked too.