Joni Edelman Has Some Crucial Advice for Her Younger Self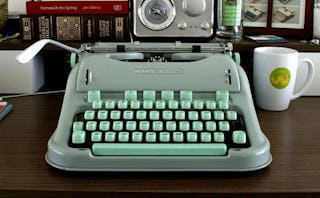 When we read Joni Edelman's essay, "Being Thin Didn't Make Me Happy, But Being 'Fat' Does," we knew we had to interview her. "Happiness does not require thinness. Fatness does not presume sadness," wrote Joni, detailing her struggle to maintain a size 4 body and the relief and happiness she found when she gave up her punishing exercise regimen and decided to be "unapologetically fat."
Since publishing the essay on Ravishly, Joni has appeared on everything from Today to Rachael Ray, and been featured in the Daily Mail and the Chicago Tribune. We wanted to get to know Joni a little better, so we invited the mother of five and registered nurse to answer our Mid Q&A. (She'll also be writing for us about parenting, so look for more Joni on The Mid in coming weeks.)
© Joni Edelman
1. What's something you want to learn how to do?
Play guitar. My dad gave me his (the one he played during my childhood) when I turned 30. And I'm inept. I'm not giving up. But I'm also not good at all.
2. What's a trip you've been meaning to take?
My husband and I need to get to France. It just really needs to happen. Soon.
3. Who do you owe a thank you note to? (Here's your chance.)
My German teacher Dorena Koopman. Sadly, she lost her life to breast cancer several years ago. She sort of annoyed me in high school (where sort of means a whole lot). But she had a very real palpable confidence in me and my capabilities. I never gave her credit, but she was the first person to believe in me and make me believe I might be worth something.
4. You're 12 years old. What are you doing on a Friday night?
Trying on formal dresses handed down from my 18-year-old aunt. Generally pretending I'm either Alyssa Milano or Brooke Shields. Wearing bras that are way too big (and stuffing them). Eating Doritos and Ding Dongs.
5. Who did you make your first mix tape for? What songs were on it?
I can't actually even remember his name. I think it was Chris. But I remember for sure "I Just Called to Say I Love You" (Stevie Wonder classic), and more than one song by New Edition (including but not limited to: "Mr. Telephone Man," "Cool It Now," and "If It Isn't Love") were on it. My mix tape skills improved greatly over the years, i.e., I stopped recording songs simply by putting my tape recorder in front of the already playing radio and hoping to press record as soon as a song started.
6. What's the one childhood story about you that you're sick of hearing at family gatherings?
For some god awful reason everyone wants to discuss that time I stuck a bean up my nose. I didn't tell anyone (obviously) and sneezed it out some time later. Sprouted. Not embarrassing at all.
7. What advice would you give your 25-year-old self?
Treat your bipolar disorder. Having it doesn't automatically mean you are your mother. And treating it will improve your quality of life exponentially. Stop avoiding a diagnosis. Now.
8. What's the one thing you make better than anybody?
Cake. Cake is my jam. I'm a cake master.
9. What's your motto?
Depends on the day. Either "Don't forget to be AWESOME!" Or the oft-quoted (but with good reason) "Be the change you want to see." Thanks, Ghandi, for that one.
10. Or if you don't have one, what's your theme song?
James Taylor's "Secret of Life": "Enjoy the passage of time."
11. What's the one movie or TV show that makes you feel better?
Love Actually will always make me believe in humankind.
This article was originally published on