'Killed By Police' Should Not Be On The List Of Parenting Fears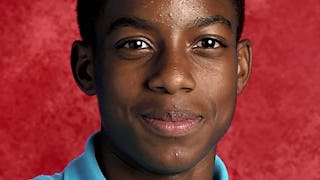 Image via Mesquite Independent School District
Police account changes in shooting of 15-year-old Texas boy
Fifteen-year-old Jordan Edwards was a freshman at Mesquite High School in Mesquite, Texas. He was a football player, a friend, a son — a child. He had dreams of playing college football, and he was widely loved.
Last Saturday night, police responded to a call about "drunken young people." The call ended with 15-year-old Jordan being shot in the head with a rifle, and several police officers lying about what led up to his death. His two brothers were in the car and had to watch him die. So were two other teenage friends.
The initial police statement read: "At about 11:00 P.M. the Balch Springs Police Department received a 911 call reporting several underage kids drunk walking around… Officers arrived to investigate. During the investigation, Officers heard gunfire. There was an unknown altercation with a vehicle backing down the street towards the Officers in an aggressive manner. An Officer shot at the vehicle striking the front seat passenger."
With police claiming the vehicle was essentially being used as a weapon, they were trying to prove they had an excuse to fire into a car full of children. But that's not what happened. An updated police statement clarifies:
"Officers arrived at the location and discovered a large party. While inside the residence trying to locate the owners of the house, Officers heard multiple gunshots coming from outside causing a chaotic scene with numerous people running away from the location. Officers immediately exited the residence to investigate the gunshots."
"Officers confronted a vehicle backing down the street and despite multiple verbal commands from the officer, the vehicle continued to reverse, backing into the main roadway. The vehicle then pulled forward as the Officer continued to approach the vehicle giving verbal commands. The vehicle continued to the main roadway driving away from the Officer as an Officer shot into the vehicle striking the passenger."
The police chief who made the initial statement claimed he "misspoke" the first time.
That is a very different story. The officer had no reason to fear for his life, the vehicle was not being used in an aggressive manner, it was attempting to drive away. And an officer made a decision to fire a shotgun into a car full of kids.
"He was everybody's friend — his attitude and smile, everything was just contagious about him. He was excellent — 3.5 G.P.A., never in trouble, no attendance issues. He was a kid that did everything right," a teacher said of Jordan to The New York Times.
"His big smile lit up a room."
"It should be said here that even if Jordan, an honor roll student, had not been on the honor roll, his life mattered—still matters to his community, to his school and to all those who loved him," Kirsten West Savali of The Root writes. "Though his achievements and accolades are well-deserved, good grades should not be used by those seeking reasons not to blame him for his own death as proof of his worthiness or to portray him as a 'perfect victim.' He should not be dead. Period."
We were all teenagers once. Teenagers are loud — it's what they specialize in. This child should not be dead. A car full of teenagers making a decision to pull away from police officers should not be a death sentence. Can you blame them? Run-ins with police do not end well for black kids. I don't think speculating that they were terrified is a reach. Refusing to listen to a police order does not excuse this. Do you want to live in a world where not obeying a police order is grounds for being shot dead? I don't.
Luckily, I don't have to. I'm a white woman. My kids don't have that luxury of safety. My black son is 6-years-old and already the tallest child in his class. I don't want to think of a world where he could go to a party, get into a car when he learned cops had shown up, and end up dead. The world that Jordan's parents are living in today. Their son is gone. And the man who killed him has simply been "fired."
Officer Roy Oliver has been fired for fatally shooting Jordan. "After reviewing the video, I don't believe that [the fatal shooting] met our core values,"Balch Springs Police Chief Jonathan Haber said.
Good to know that shooting into a car full of children doesn't meet your "core values."
"After Jordan's two brothers, Vidal and Kevon, along with their two friends, were forced to experience this tragedy up close as occupants of the car, they were immediately treated as common criminals by other officers; manhandled, intimidated and arrested, while their brother lay dying in the front seat," a statement by the Edwards family reads.
Parents do not have a son anymore because he went to a party where kids were loud and a neighbor alleges they were "drunken."
No parents should be in a place where they are afraid for their children surviving an encounter with police. And yet, here we are. This is our world — and far too many people are willing to excuse it.
This article was originally published on