These Rosé Margaritas Prove That Sometimes We Can Have Good Things
by Thea Glassman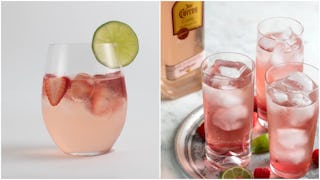 Image via Jose Cuervo
Jose Cuervo has rosé margaritas which means summer just got so much better
Is your summer in dire need of something light, refreshing, and packed with alcohol? Enter: Jose Cuervo's new Golden Rosé Margarita, which combines three very, very good things (rosé + tequila + Grand Marnier) to make the ultimate boozy treat. Also, if aesthetics are your thing, the mix looks like a blush pink dream.
Here's everything you need to know about your new favorite drink. It's available in select grocery and liquor stores across the country, retails at $14.99, and there's a handy locater that helps you track down the bottle closest to you. Unfortunately, it's not available on Jose Cuervo's website yet, but this will just give you more motivation to go on that extended grocery run you've been putting off for a long, long time.
The drink itself is sweet with a bit of a punch. According to Bustle, there are "notes of red fruit, white flowers and melon finished with a refreshing tang of lime." Also, it has 12.7 percent of alcohol, which means you probably won't get sloppy drunk, but will definitely reach a pleasant level of tipsiness.
Because, it's still summer damnit, and we should all have a few more weird, tipsy nights.
Now, let's move on the the really fun stuff. The drink is cute. Very, very cute. You might not be the type of person who's into instagramming your drinks (very fair), but you're going to want to snap at least one picture of yourself having a ~moment~ with this pink treat. Just for your personal records.
Behold the sleek, bright perfection below. Hellllooo gorgeous, amirite?
If you're ready to get down with a margarita mix, but not really feeling the rosé component, there are plenty of other boozy options. You can grab Jose Cuervo's Authentic Cuervo Light Margarita, which is equally refreshing, has only 95 calories, and looks damn good in a glass.
Or, you can go with this classic margarita mix and attempt the strawberry shot concoction below, which looks wildly ambitious but beyond worth it.
Whatever you decide, hopefully this last month of summer is filled with drinking plenty of pretty, boozy things.