Josh Gad Cheers Up Sick Kids By Calling Them As Olaf From 'Frozen'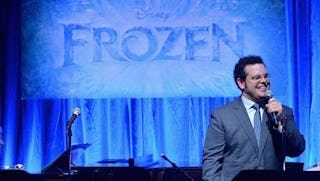 image via Alberto E. Rodriguez/Getty images
The Frozen actor uses his character's voice to call sick kids
Every kid loves Frozen, and every kid loves Olaf. Just the sound of that happy little snowman's voice is enough to cause countless smiles, and actor Josh Gad, who voices Olaf in the movie, knows that better than anyone.
That's why he's using his Olaf voice to make sick kids feel a little bit better.
The actor has a habit of calling chronically ill kids in character as Olaf to bring a little sunshine to their day.
"It's such a little thing that I do that goes such a long way for these children. But you take their mind off of it for a minute, for a day," he told Buzzfeed.
He spoke about the gesture while promoting his new movie, Marshall. "I actually get choked up thinking about some of the kids that I've left messages for because it's so…it's so fleeting."
Gad has two kids of his own, and like any parent, he can't imagine if his daughters were sick, and he is just doing what he can to provide a little comfort. "As a parent, it's the hardest thing to think about and, you know, I take ownership of the fact that that's as much my job as doing the voice for commercial reasons."
He's happy to do what he can to help, even just a little bit. And not just for the kids. "Hopefully you give their parents a distraction."
The actor is no stranger to busting out the Olaf voice in everyday moments. In fact, his daughters get the Olaf treatment quite often. Just one of the perks of having the cheerful snowman for a dad.
"They're a little spoiled because I read to them these stories at night," Gad said to E! News. "When I read a book about 'Frozen' I read it as Olaf. So, they get it firsthand. So, for them, every day is a sequel for them."
He takes his role as a beloved children's character seriously, because he knows there are much more important things.
"The fact that it has transcended that is such a wonderful thing, but it's also really sad. I would take all of it back if it just meant that the kids could have a normal life. You know at the end of that call is another call where the child is gone."
This article was originally published on