A Wigged Josh Gad Dancing To 'Maniac' Is The Content You Need Right Now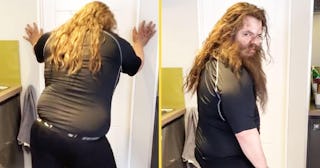 Josh Gad/Instagram
The world needs this video of a wigged Josh Gad dancing to 'Maniac'
Things are, uh, a little tense right now. As COVID-19 spreads like wildfire around the globe, anxieties are high and panic-buying is in full swing. It's a lot, and all of our fears and worries are totally valid. But, thankfully, we have people like Josh Gad to break make us laugh a little during this trying time.
"I was never going to share this, but something tells me the world needs it now more than ever," he captioned his latest video on Instagram. " I hope it brings you peace."
Honestly, this video of a be-wigged Josh Gad dancing and lip-syncing to "Maniac" should bring us all some semblance of — albeit very temporary — peace.
Bless you, Josh Gad.
People everywhere were loving it, too.
He's always good for quality Instagram content, like earlier this year when he called out his kids — "the children of Olaf"– for putting together one shoddy-looking snowman in their front yard.
"The children of 'Olaf' built this and I am ashamed and embarrassed," Gad wrote back in January, after the world's saddest looking snowman posed for a photo. Hey, his daughters tried, okay?!
It was announced last week that the world will be getting more of Gad in the way of a Beauty and the Beast prequel that's in the works for Disney+.
Gad and Luke Evans, who played Gaston in the live-action movie from 2017, will reprise their roles for a limited, six-episode series. Disney+ has teamed up with ABC's Once Upon a Time creators Eddy Kitsis and Adam Horowitz (with Gad on board as a co-writer) to tell Gaston and LeFou's origin story.
The prequel musical, which is still currently untitled, still in the early stages of development. The Hollywood Reporter says that the series will "expand the Beauty and the Beast universe," and that no other stars from the live-action film such as Watson and Dan Stevens (who played the role of Beast) are currently part of the project. THR also reports that composer Alan Menken is in talks to create new music for the series.
For now, we must all be content with Gad's killer dance moves and amazing wig in his latest Instagram post, for which we all owe him a big "thank you for temporarily distracting us from this horror."
This article was originally published on