The Joy And Relief People Are Feeling About Their COVID-19 Vaccines
by Elisha Beach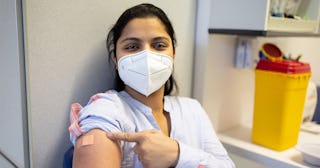 Luis Alvarez/Getty
COVID vaccines are being distributed, and you can almost hear the collective sigh of relief. There is finally a light at the end of this very long pandemic that flipped life as we knew it upside down. There is hope that we can begin to return to normal sooner than later. And people are expressing both joy and relief at vaccine sites across the world.
So many people have been affected by this pandemic in so many ways. Many have lost loved ones to COVID. Lots of people have lost jobs, and many business owners have had to shut their doors. Senior citizens, people with preexisting conditions, and those terrified by the virus have had to isolate themselves from family members and loved ones. And pretty much everyone has given up life as we knew it and adjusted to a new normal.
So it's completely understandable that access to vaccines is bringing about a sense of joy and relief. It's reassuring to begin to see stories from people of all walks of life on social media proudly showing their COVID vaccination cards and sharing their stories. You can see the smiles behind the masks of medical personnel to teachers to those that are immunocompromised. And there is even a hashtag starting up … #vaccinejoy.
Canadian dance teacher Gurdeep Pandher shared a dance on Twitter celebrating his first vaccine round. He danced Bhangra in the middle of a frozen lake surrounded by pristinely white snow with a massive smile on his face.
Even Dolly Parton is sharing her excitement about receiving the Moderna vaccine at Vanderbilt. And she is encouraging others to join her with a special remix of her song "Jolene."
Caretakers everywhere are also expressing a huge sense of relief. Kate Washington of Sacramento, California, has been caring for her immune-suppressed husband and shared with AARP, "When I heard that he was eligible to get the vaccine, it was like letting out a breath I didn't know I was holding." And NY1 News TV personality Stephanie Simon Claffey shared on Instagram that she was finally able to hug her dad for the first time in more than a year.
My sister has been our father's caretaker for almost the entire pandemic. He has Alzheimer's and she has carried a significant amount of stress trying to make sure he didn't get exposed to COVID. She received confirmation of his vaccination appointment during a Zoom call while another colleague got news about her mother's appointment. They both cried on the Zoom out of pure relief from all the stress they've carried as caretakers.
Residents of nursing homes have been receiving the vaccines, and facilities are slowly beginning to return to normal after nearly a year in lockdown. Being cut off from family and primarily confined to their rooms has taken quite a toll on many nursing home residents. But starting to interact with other residents and the possibility of seeing their families again is just the relief many of our senior citizens need.
And after a very trying year, medical professionals also see a ray of hope. Christina O'Connell, a clinic director at the University of New Mexico, told the Washington Post, "I don't think I've ever had an experience in my career that has felt so promising and so fulfilling." And Kimberly D. Manning, MD, was excited to volunteer her time to help administer vaccines in the state of Georgia.
Dr. Ana Lopes Johnson of Los Angeles is a part of a health team following the tiered system for vaccine equity as directed by the Department of Health. She states, "We've delivered over 68,000,000 vaccinations, but only 20 million people have received the second dose in this country. Whatever part of the vaccine spectrum you are on, you should feel a sense of pride and relief. We are going to beat COVID."
But she wants to remind everyone to stay cautiously optimistic. "Stay mindful, keep wearing your masks, watch your distance and wash your hands. We are seeing about 70,000 cases a day still (nationwide), so we are not there yet."
This article was originally published on