We Are Having A Minimalist Holiday Season This Year
by Rachel Garlinghouse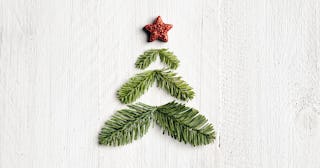 ThomasVogel/Getty
Christmas is my absolute favorite holiday, and we start celebrating now. I've already ordered matching Christmas pjs for my four kids, their gift wish-lists are ready for the grandparents, and we've chosen holiday cards to mail to family and friends. We do all of the things: bake cookies, listen to Christmas music, wrap gifts, write a letter to Santa, and find the perfect Christmas Eve church outfits. But this year? 2020 is officially making everything—the holidays included–much more difficult thanks to the pandemic.
I figured parents can go one of two ways this year. We can feel guilty and over-compensate by creating an over-the-top holiday season for our kids, or, maybe just maybe, we could take an opposite approach. What if we decide to have a mindful, simpler holiday season this year?
The coronavirus means that many of us are cancelling our traditional holiday get togethers in order to keep our most vulnerable loved ones healthy and safe. We aren't going into stores as much either, instead, relying on shopping online despite our love of the holiday shopping rush. I used to stroll down the aisles of Target, a steamy latte in one hand, filling the cart with décor and gifts. Now, almost everything arrives on my doorstep after being ordered online. The reality is that things just aren't the same. We aren't the same. The virus has changed us, and it's still changing us. What are we do to with the holidays when we're in the midst of a global pandemic?
Meg Nordmann is a mom of two and author of the newly released book Have Yourself a Minimalist Christmas: Slow Down, Save Money, and Enjoy a More Intentional Holiday. She told Scary Mommy, "motherhood was the catalyst that made me embrace the minimalist lifestyle." Her oldest child learned to walk early, leaving Nordmann to spend "every second of every day cleaning and picking up things and unable to find any time for myself, my creative pursuits, or to even be as present of a mother as I wanted to be." She added, "I wanted to play with my child, not clean up after her incessantly."
She had an "aha moment." If their family owned less, they would have less to clean up and more time to do what they loved. She purged items as well as analyzed her "urge to consume and my urge to hold onto things." It was, she admits, "a lot of inner work," including discipline to "relearn new healthy habits." Her new dedication to minimalism and intentionality spread into cultivating a holiday for her family that was beautiful and memorable.
A minimalist Christmas defined.
I was fearful that a minimalist Christmas meant a Charlie Brown tree, no sparkle, canceled cookie baking sessions, and ho-hum holiday music, but I was wrong. Nordmann explained that a minimalist Christmas is "not about aesthetics nor does it mean you should be a Scrooge that opts out of decorating or gift giving." Instead, "it's about applying intentionality with each aspect of the holiday—your home, your budget, and your time." She added that the goal is to "slow down, consume less, and enjoy the peace and togetherness that the holidays are truly about. It's about presence." So far, so good.
Recognize the benefits of a minimalist Christmas.
Nordmann understands the pressure we face when it comes to the holiday season. It's downright overwhelming and exhausting. We think the holidays must look a certain way (ahem, Pinterest-perfect) in order to be truly merry. Cue the twinkly lights, steaming cups of hot cocoa, and matching family pjs. At the same time, advertisers tell us we need more, better, and bigger. On top of this, we are dealing with everyday life, special holiday event requests, and trying to squeeze in our own family holiday traditions. No wonder we are exhausted! The benefits of choosing a more minimalistic Christmas is more time for yourself and your family, less physical, emotional, and financial stress, and a more holly joy holiday for everyone.
Declutter before the holiday season hits.
Nordmann suggests we declutter now instead of frantically trying to make room and get organized in the midst of the holiday season. She says "do a quick sweep" of spaces like your kids' rooms, winter clothing, baking supplies, and especially your living room where a lot of the holiday magic happens. The goal is to make everything "function more seamlessly" throughout the season, leaving you more time and energy for the things you want to do, like make your grandma's infamous sugar cookies.
While you're at it, declutter your holiday décor.
Nordmann's first tip is not to involve the kids, who will certainly whine over every object you toss or donate. Anything "worn, faded, no longer working or outdated" needs to go. If a décor item doesn't mean that much to your family, why are you keeping it? (Hardmann says it's usually because of "self-imposed guilt" and sentimentality that belongs to someone else.) Intentionally decide what you are going to keep and display and what needs to go.
Map out your holiday calendar.
Nordmann suggests first recording any "hard plans" which are the events that have a "specific date and time attached to them" and cannot be changed. Look at all the days that remain and "pencil in the holiday traditions that bring you the most joy." Ideas she offers include selecting a Christmas tree, baking favorite cookies, and taking a family car trip to look at house lights. These events can be moved around based on the family's needs. By scheduling your season's fun, "you'll find everything feels slower and less frantic."
Create a budget and gifting expectations.
This can be tough to navigate, because every family has their own gift-giving traditions and expectations. Nordmann says, first create your holiday budget. You need to know what you're working with before you can chat with your immediate family, extended family, and friends about gift-giving. If you are inclined to decrease the number of gifts being exchanged, you might consider kid-gifts only, a book exchange, drawing names, gifting experiences rather than items, or setting a dollar-amount budget per person. She also reminds us of the four-gift rule that I've seen many parents going to in recent years. This means each person gets something they want, need, read, and wear. It's important to discuss the expectations as a family and budget well in advance of Christmas morning to avoid hurt feelings.
Keep COVID-19 in mind as you plan.
This pandemic has been hard on all of us in different ways, including financially. Nordmann suggests now, more than ever, that we take the focus off Santa and wish lists and find value in "experiences over objects." Instead of putting all our excitement and expectations on a single day in December, we can spread out the joy throughout the season, focus on favorite traditions that don't break the bank, and most of all, just enjoy family time. "I truly believe that 2020 will end up feeling the most magical and become the most memorable of all because we are being forced to slow down and be more present," Nordmann shares.
By intentionally creating a more minimalist holiday season, we are perhaps embarking on a new tradition, one that we can into future holidays. 'tis the season to be safe and merry!
This article was originally published on