Father Of Twins Forgotten In Hot Car Coping With Loss And Guilt
by Julie Scagell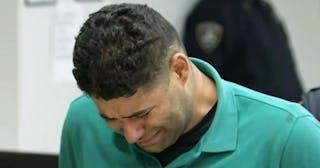 Eyewitness News ABC7NY/Youtube
The grieving father was inconsolable during his court appearance
Social worker and father of twins, Juan Rodriguez, drove to his place of employment last week where he worked a full day. He got into his car that night and, after driving several minutes, discovered his twins were still strapped in their rear-facing car seats, where they had been for the entire day in the hot sun. Now, Rodriguez is dealing with what will be a lifetime of anguish over their deaths and is trying to come to terms with how he could have forgotten to drop them off at daycare.
Rodriguez, 39, dropped his four-year-old son off at daycare and then went straight to work on Friday, forgetting to drop off his twins, prosecutors said during his arraignment. He parked his car in the employee lot at Fordham Manor VA Hospital at 8 a.m. and arrived back at his car around 4 p.m. He has been charged with manslaughter, criminally negligent homicide, and endangering the welfare of a child during his Saturday arraignment, WPIX in New York reported. He openly sobbed in court on Saturday when he pleaded not guilty and was released on $100,000 bail.
Rodriguez's wife Marissa, the mother of the one-year-old twins, Phoenix and Luna, said she's "completely devastated" but is defending her husband, releasing a statement through her attorney saying, "Though I am hurting more than I ever imagined possible, I still love my husband. He is a good person and great father and I know he would've never done anything to hurt our children intentionally. I will never get over this loss and I know he will never forgive himself for this mistake."
When police arrived at the scene, the grieving father told them, "I blanked out, my babies are dead, I killed my babies." Since 1998, about 440 children nationwide have died (24 just this year) of heatstroke after being forgotten in cars, the New York Times reported. The twin's body temperatures were taken at the scene and read 108 degrees Fahrenheit. Bystanders say Rodriguez got out of his car screaming when he realized what he had done.
Ms. Rodriguez called the deaths of the children a "horrific accident." She also said she will be by her husband's side every step of the way "to go through this together."
Rodriguez' friend and coworker, Temple Barros, told CNN they'd just celebrated the twins' birthdays. "We had a huge birthday for them," Barros said. "We had bounce houses, bubble machines. They went all out. He's always been an amazing father. Whatever they need, he'll go out and get it."
Another friend, Alfredo Angueira, tells The New York Times, that the devoted dad couldn't understand how the tragic mistake occurred. "He couldn't explain it. In his mind he dropped them off," he said.
"It fits the same patterns that we have seen in a lot of these forgotten-child cases," Mr. Null, who founded noheatstroke.org, told The New York Times. "It was a good parent, who for some reason, went on to work, and didn't remember he hadn't dropped off his children."
"Luna and Phoenix will always live in our hearts and memories and we are working hard to come to terms with what has happened," Ms. Rodriguez continued in her statement. "We need to grieve, be strong and be present for our other children."
This article was originally published on