Judge Orders Plane Carrying Deported Mother And Daughter Back To U.S.
by Cassandra Stone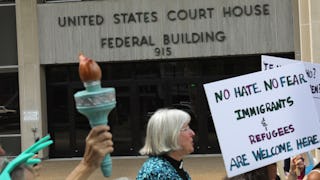 Image via John Moore/Getty Images
Judge Emmet Sullivan says the Trump administration violated an agreement to not deport asylum-seekers
Yesterday, a federal judge ordered a plane in the process of deporting an immigrant mother and daughter to turn around and re-route back to the U.S. The family is part of an ongoing lawsuit against the Trump administration, who had previously assured the court that plaintiffs wouldn't be deported prior to 11:59 p.m. on Thursday.
U.S. district judge Emmet Sullivan issued his extraordinary ruling yesterday after learning the administration had violated their agreement. He not only ordered the plane to turn around, but also threatened to hold Attorney General Jeff Sessions in contempt of court if the plane didn't return.
Court transcripts show Judge Sullivan expressing his anger after being told the family, who was seeking asylum after fleeing El Salvador, was still deported despite the agreement that they wouldn't. Sullivan was having absolutely none of the Trump administration's nonsense.
"This is pretty outrageous," Sullivan said, "Somebody in pursuit of justice in a United States court is just — is spirited away while her attorneys are arguing for justice for her?"
According to the lawsuit, the mother Carmen (a pseudonym) and her daughter are seeking asylum after enduring "two decades of horrific sexual abuse by her husband and death threats from a violent gang." In the court papers, Carmen says her husband raped her, stalked her, and threatened her life. Earlier this year, she was held at gunpoint by a gang who threatened to kill her and her daughter if she didn't give them money.
"Oh, I want those people brought back forthwith. … I'm not asking, I'm ordering," Sullivan said upon learning Carmen and her daughter were being deported. "I know I'm raising my voice, but I'm extremely upset about this," the judge said. "This is not acceptable." He then asked for the administration to give him an update scheduled for later this afternoon.
The lawsuit itself involves a group of immigrants seeking asylum — many of whom are still in custody in deportation centers, while others have already been deported. The suit, filed by the ACLU and Center for Gender & Refugee studies, argues that the Trump administration is wrongly rejecting asylum claims based on domestic abuse and gang violence.
"In its rush to deport as many immigrants as possible, the Trump administration is putting these women and children in grave danger of being raped, beaten, or killed," Jennifer Chang Newell, managing attorney with the ACLU's Immigrants' Rights Project, said in a statement.
"We are thrilled the stay of removal was issued but sickened that the government deported two of our clients — a mom and her little girl — in the early morning hours. We will not rest until our clients are returned to safety."
This article was originally published on