Judge Issues 'Order' Banning Elf On The Shelf For Exhausted Parents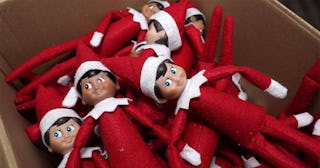 John Bazemore/AP/Shutterstock
A judge issued a fake order banning Elf on the Shelf for any parents too tired to do it this year, and it's a real mood
The holiday season is fast approaching. That means it's time to start shopping for gifts (while minding both unprecedented labor shortages and supply chain disruptions all over the world), clean and decorate, cook a few restaurant-quality meals (and dozens of cookies), and have those hard conversations with family members who inexplicably haven't gotten vaccinated yet. With all that going on, when is there time to even drink a cup of cocoa, watch a Hallmark movie, or make some memories with the kids — not to mention move an elf doll around the house every GD day for a month.
Well, parents, if you are (like all people in the year 2021) just too f*cking tired for Elf on the Shelf, you officially have an out this year. Cobb County Superior Court Judge Robert Leonard has decided to do parents everywhere a solid and take all the blame if Buddy decides to just stay in the closet this holiday season. Leonard tweeted out an "official order" that bans Elf on the Shelf this year, so parents, print this out and enjoy having one less thing on your holiday to-do list.
"Tired of living in Elf on the Shelf tyranny? Not looking forward to the Elf forgetting to move and causing your kids emotional distress? I am a public servant and will take the heat for you. My gift to tired parents," Leonard wrote, adding, "P.S. – If you love your elf, keep your elf. No contempt."
The order itself reads in legalese that's sure to fool any kid, and banishes Elf on the Shelf this year for the "distraction to school students and a risk to the emotional health and well being" it represents.
It continues, "Inexplicably, Elves sometimes move and don't move overnight. When these Elves do not move, it leaves our children of tender years in states of extreme emotional distress."
Leonard goes on to detail one incident in which the Elf in his house "forgot" to move one night, which led to one of his children being labeled the "elf murderer" who caused their elf to "lose his magic." Yep, that sounds familiar.
So parents, if coming up with a creative new place to stash an elf doll just isn't on your list this year, here's your out. And in the time we have before next Christmas, maybe we can all ask Judge Leonard if he'd be willing to draft something up saying it's time for all elves to retire to a nice farm upstate. Just an idea.