United States' First Female Muslim Judge Found Dead In Hudson River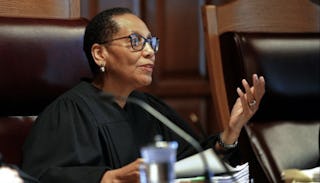 Image via Twitter
Sheila Abdus-Salaam was a judge on New York's top court
Police are trying to piece together what happened to Judge Sheila Abdus-Salaam after she was found dead on the bank of the Hudson River. Abdus-Salaam was the first Black Muslim woman appointed to New York state's highest court. Her death is chilling as there are many unanswered questions and little clues as to what may have happened.
Abdus-Salaam, 65, was reported missing from her home in Harlem earlier on Wednesday. At around 1:45 p.m., her body was discovered floating in the water on the Manhattan side of the Hudson River according to authorities who spoke to The New York Times. Police say her body showed no obvious signs of trauma. She was also found fully clothed. According to New York Post sources, Abdus-Salaam's body was identified by her husband and because there are no indicators of injury or foul play, her death appears to be a suicide.
"I could not imagine her doing anything to herself to harm herself," Pat Miller, Abdus-Salaam's neighbor tells the New York Daily News. "She's not that type of person … I'd like to know what happened. I would really like to know."
The exact cause of death hasn't been determined yet. A medical examiner still has to weigh in and police will be investigating how she ended up in the river.
In a statement Wednesday night, Gov. Andrew Cuomo writes, "Justice Sheila Abdus-Salaam was a trailblazing jurist whose life in public service was in pursuit of a more fair and more just New York for all."
"She was a pioneer," he says. "Through her writings, her wisdom, and her unshakable moral compass, she was a force for good whose legacy will be felt for years to come. I was proud to appoint her to the state's highest court and am deeply saddened by her passing."
According to TIME, Former Chief Judge Jonathan Lippman says he knew Abdus-Salaam for many years. He calls her death "difficult to understand." He adds, "The court has suffered a terrible blow."
New York Mayor Bill de Blasio also offers his sentiments about Abdus-Salaam on Twitter, calling her a "humble pioneer."
Linda Sarsour, political activist, Women's March co-organizer and Muslim expressed her shock and sadness at Abdus-Salaam's passing as well on her Facebook page.
According to The New York Times, Abdus-Salaam was one of the most reliably liberal voices on the bench. She often sided with 'vulnerable parties' such as the poor, immigrants, and those with mental illnesses. Her colleagues admired her for her 'thoughtfulness' and 'candor.'
Chief Judge Janet DiFiore says, "Her personal warmth, uncompromising sense of fairness and bright legal mind were an inspiration to all of us who had the good fortune to know her."
This article was originally published on