Judges Rule Soap And Sleep Count As 'Safe And Sanitary' Conditions For Migrant Kids
by Julie Scagell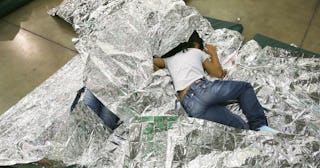 John Moore/Getty
Government attorneys actually argued toothbrushes weren't necessary for migrant kids in detention centers
A federal appeals panel ruled against the Trump administration this week after they bid to limit minimal care for detained migrant kids. The U.S. government's appeal originally argued that kids being held in detention facilities may not need soap during "shorter stints in custody."
When the Ninth Circuit Court of Appeals — a three-panel judicial branch — weighed in on the latest protest, they dismissed the government's case, finding that it failed to provide certain accommodations like soap and basic sanitary conditions to children awaiting next steps in the asylum process. "Assuring that children eat enough edible food, drink clean water, are housed in hygienic facilities with sanitary bathrooms, have soap and toothpaste, and are not sleep-deprived are without a doubt essential to the children's safety," the panel wrote.
According to a June hearing, the initial agreement was vague in its language and argued that a toothbrush and soap may not be essential to children during brief stays in custody (which can last up to 20 days).
Leecia Welch, senior director of legal advocacy and child welfare at the National Center for Youth Law, told NBC Chicago the panel's decision wasn't a surprising one. "It should shock the conscience of all Americans to know that our government argued children do not need these bare essentials," she said.
In 2017, U.S. District Court Judge Dolly Gee ruled that authorities had breached the agreement — widely-known as the Flores settlement — after child immigrants reported putrid living conditions, including sleeping on floors and not having access to hot water or personal hygiene products. She then appointed an independent monitor to evaluate the conditions that persisted.
The Flores settlement between groups supporting youth immigrants and the government includes language that clearly states children should be held in facilities that meet "certain standards and are released as soon as is reasonably possible" — typically less than 20 days.
As we know, conditions have been anything but livable for both children and adults alike in detention centers across the U.S., where reports of kids being given minimal food, forced to separate from their families as infants, and being described by many who visit as "torture facilities" are the norm. It's appalling those seeking asylum have to actually ask that their basic needs be met while they are awaiting trial.
"It's within everybody's common understanding: If you don't have a toothbrush, if you don't have soap, if you don't have a blanket, it's not safe and sanitary. Wouldn't everybody agree to that? Do you agree to that?" Judge Wallace Tashima asked the opposing counsel. She later ruled: "Those determinations reflect a commonsense understanding of what the quoted language requires. Assuring that children eat enough edible food, drink clean water, are housed in hygienic facilities with sanitary bathrooms, have soap and toothpaste, and are not sleep deprived are without a doubt essential to the children's safety."