I'm Totally Judging You If You're Out There Trying To 'Socialize' Your Kids Right Now
by Anonymous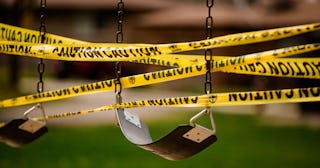 Matthew Henry/Burst
Okay, I think we can all agree that this pandemic fucking blows, especially for us parents.
Besides the loss of life that many of us have witnessed or been directly impacted by, so many families have been upended by unemployment, grief, fear, and other awful, unimaginable circumstances. Many parents are also essential workers, with no choice but to weather the storm, provide services for us all—and risk their lives at the same time.
Even families who have not been directly impacted by the virus are struggling big time. So many of us have found it nearly impossible to work from home while homeschooling our kids. Our mental health is suffering, and so is the mental health of our children. Our kids are bouncing off the walls. They are cranky. Their sleep schedules are a damn joke.
And we worry. We worry about our children, deeply. It is painful and worrisome to watch them battle loneliness, disconnection from peers, family members, and beloved teachers. I worry about my children—now, and for the long haul. I have lost sleep over it. I'm sure you have too.
But.
None of this means that we need to make choices that put their lives in danger, or potentially puts the lives of others in danger as well.
As the country has started to reopen, and especially as parents have become impatient with the current conditions we are under, I have seen far too many parents start to arrange playdates for their kids. Too many families looking to get the neighborhood kids together to play. Too many families visiting grandparents "just this once" for a holiday or a weekend BBQ.
Yes, maybe y'all are taking utmost caution to practice social distancing at your little events, but I'm not sure that that is entirely possible, especially when you're talking about kids on playdates, or your family's Mother's Day luncheon.
Many of you are justifying these little shindigs by saying that your kids are desperate for companionship. You're saying your kids are restless, lonely. Their mental health is suffering. They miss their grandparents. Their grandparents miss them.
You're saying that "you only live once." You're saying that there aren't that many cases of COVID-19 in your area. You're saying you know that the kids your kids are playing with aren't sick. You're saying that other parents need to stay the hell out of your business. You're saying that "everyone needs to do what works for them."
Well, guess what? I'm judging you. I'm judging the shit out of you. I don't feel guilty about it.
At this point, socializing outside of your quarantined family unit is just not safe. Yes, it's probably less risky than attending a large gathering, but each time you mingle with someone outside of your family unit, you run the risk of getting infected with the virus or infecting others—and thereby potentially infecting your community.
Let's do a quick refresher about how this virus works. You know that this virus transmits between people who are asymptomatic or who are not yet showing symptoms, right? Recently, the CDC estimated that about a third of people who have coronavirus are asymptomatic, and that about 40% of virus transmission happens before people feel ill.
Meaning, the folks you mingle with could feel 100% normal, but be positive for the virus, not know it—and infect you. The same goes for you and your kids infecting the people you are socializing with.
You can't know if you have the virus or not unless you've been tested. PERIOD.
So, yes, you and your family members might seem fine, but one of you could have the virus, and get everyone sick. And yes, even though fewer kids generally get symptomatic infections of the virus, they can transmit the virus to each other and to their grandparents.
Are you aware as well that there is a new inflammatory syndrome linked to COVID-19 that is causing kids all over the world and across the country to be hospitalized in the ICU, and that at least three kids have died of it in New York State? It's called Multisystem Inflammatory Syndrome in Children and it's damn scary.
And another thing: just because there are very few cases in the town you live in, doesn't mean the virus isn't coming for you, or is already there. It takes 3-14 days for folks to show symptoms after infection. So there could be people in your town right now walking around with the virus, potentially infecting others. You just don't know.
WHY WOULD YOU BE WILLING TO TAKE THAT CHANCE?
Do any of your concerns about your kids' unhappiness or loneliness or even their mental health trump the fact that social gatherings outside of your family increase the risk of you or your loved ones or your community getting this virus—this virus that almost 100K Americans have died of since the pandemic began just a few short months ago? This is not a joke, folks.
Listen to me: your kids are going to be fine. Socializing them is no damn emergency. If you have enough funds to buy food for your family—if your kids have a safe home, toys to play with, and an internet connection so that they can be entertained and communicate with others—then you are doing just fine, your kids are going to be fine, and you can sit right down.
And wait. Wait until it is clearer that socializing outside your family is safe. Wait until we know more about Multisystem Inflammatory Syndrome.
Yes, this blows, but our kids are more resilient than we think. Personally, I have been reflecting on my own life and childhood. My dad left my mom when I was six and my life was really freaking unstable for a while. My newly single mom had no money, and for a while, we were moving from place to place—one move every few months. We lived in a cheap motel for a few weeks. I missed a few months of kindergarten, and went to six different elementary schools. We lived on food stamps and WIC for several years.
It was tough, scary and stressful. I missed my friends. I lost some friendships. I spent a lot of time alone with my family.
Guess what? I survived, as did so many children who have faced adversity in their lives. Kids are resilient. My mom was my rock and showed me love and care through it all, so I was okay. And we can do that for our kids too. Sometimes life is weird for kids. Sometimes it gets upended. We can help them move through all their emotions about that and show them that they will be okay.
And I'm sorry, your kid being bored or lonely or your concerns about their summer plans or social life is not that adverse of a circumstance, especially if they are home, safe and fed.
Yes, our kids may be suffering. But it is in our power to help them through this, to teach them the lessons of making sacrifices for the greater good—of helping them to see that yes, they can get through something hard and come out the better for it.
I would much rather my kids suffer a few months, bored, restless, and lonely at home than risk their lives or the lives of anyone around them. And that's the damn truth.
This article was originally published on