Judy Blume's 'Are You There God? It's Me, Margaret' Is Finally Going To Be A Movie
by Cassandra Stone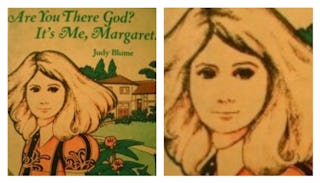 Image via Wikipedia
Judy Blume, the original YA queen, is finally coming to the big screen
Judy Blume's Are You There, God? It's Me, Margaret is one of those timeless, coming-of-age classics that have been passed down from mother to daughter for several generations — it's just that good. And now, almost 50 years after it was released, it's going to become a movie.
Blume's books are legendary, especially this one. Are You There God? It's Me, Margaret is like the go-to guide for puberty for girls. The story features a sixth-grader named Margaret who is seeking answers to all of life's big questions you have at that age. About bra-padding, periods, and struggles with parents. The book itself was written in 1970, but the heart of the story and its themes keep it relevant even in 2018. Though Margaret is curious about both Christianity and Judaism, the "God" featured in the story isn't part of any religion in particular — but acts more like a comforting answer to so many questions.
So much so, that, after years of turning down movie offers, Blume herself decided it was time to give Margaret her big-screen debut. Earlier this summer, she broached the subject on Twitter.
The film rights to the book were awarded to Gracie Films, and will be directed by James L. Brooks, and produced by Kelly Fremon Craig. The pair have most recently worked on the 2016 film The Edge of Seventeen.
Fremon Craig tells Deadline that she saw Blume's above tweet and knew she had to do whatever it takes to secure the film rights. "Then I wrote a long and passionate email to her, telling her what her books meant to me, particularly Margaret, how it came along at a time when I needed it most," Fremon Craig says. "She was the first author who made me fall in love with books and by extension, film."
My own mother was still a teenager when she had me. I remember her feeling very passionately about Are You There, God? It's Me, Margaret, and encouraged me to read it when I was about 11 or 12. I think similar stories can be found with mothers and daughters everywhere, of all ages, backgrounds, and generations — which is such a testament to Blume's talent.
In the 1970s, this book was a big deal for two reasons: one, it dealt with life at such a fragile age so honestly and tenderly, and two, it was frequently banned because it "went there" with frankness surrounding sex and religion.
Blume herself has said she thinks children have a tendency to read about things they don't quite understand — and that her books provide a pathway of communication between children and their parents. "Kids will actually go to Mom or Dad and say 'What does this mean?'" she told The Guardian in 2014. "Which is the perfect time to talk to them about it."