Teens And Adults Alike Are Going To Love Netflix's 'Julie And The Phantoms'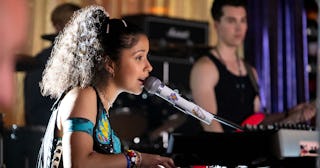 KAILEY SCHWERMAN/NETFLIX
Trying to find a show to watch is hard, especially if you're looking for a family friendly show. But one new Netflix show, Julie and the Phantoms, has something for everyone.
Based on the Brazilian show Julie e os Fantasmas, the main character and her family are Latinx. It's awesome to see a Latinx family at the forefront of the story, and a truly diverse cast. The show is directed by famed director Kenny Ortega. He directed a little franchise called High School Musical, so you know the man is in his element here. The entire series is absolutely adorable, and seriously, I know just as many adults who are obsessed with it as teenagers.
Julie Molina, the show's main character, is a teenage girl whose mother has died. When she goes into her mom's home studio, she finds an old CD and suddenly, there are three teenage boys in front of her. They're a band called Sunset Curve, and they had died 25 years prior after eating some bad LA street hot dogs. Their death was mere hours before their band was supposed to play a showcase at The Orpheum. And the band has no idea they've been dead for so long. She's the only one who can see them, but others can hear them play.
If you're like me, you're going to love the idea of a cute band of boys from 1995. Luke, the main singer/songwriter has swoopy hair and a dreamy smile. Bass player Reggie dresses like Joey Lawrence on Blossom, complete with a flannel tied around his waist. And then there's Alex. He is your quintessential '90s boy, complete with the floppy blonde hair and swoony eyes. Basically he's like a dreamier Nick Carter, and he can sing better and play the drums.
High Five Luke GIF from Highfive GIFs
Something I wasn't expecting is Alex being openly gay. And he has a romantic storyline. While on an outing to clear his head, Alex is run over by a ghost, Willie. There's an instant attraction, and as Willie teaches Alex and the boys about how to be ghosts, it only grows. According to Owen Joyner, who plays Alex, the character's sexuality was never going to be a big "issue" on the show. It's merely stated by Luke, and then it's never brought up again. Fan reaction to Willex, as they're called, is off the charts, which goes to show that having LGBTQ+ romantic storylines on shows for kids is a good thing.
The most prominent theme of Julie and the Phantoms is grief and loss. At the start, we learn that Julie doesn't play music anymore because of her mother's death. Music was a love they shared, and even thinking about it reminds her too much of her mom. But it's clear that Julie isn't the only one in the family still grieving. During dinner, we see that they still set her mom's place at the table. And when they pray before eating, they reach their hands out as if to hold hers. It's clear that Julie's dad still misses his wife, he goes into her studio to "talk" to her. While the family is perfectly fine with their mourning, Julie's tía, her mother's sister, is the outside force pushing them to move on.
Im So Sorry Mom Julie GIF from Imsosorrymom GIFs
Julie's grief over the loss of her mother permeates all of her relationships. Her father is present but makes his concerns for her mental health known. When she reveals to her best friend Flynn that the band are ghosts, Flynn immediately begins to text her dad, revealing that he's asked her to reach out to him if she thinks Julie is in crisis. You get the sense that Julie's very private about her grief and would normally use music to express herself. So as she gets back into it, she begins to allow herself to feel again.
And you can't talk about Julie and the Phantoms without talking about the music. One of the best things is that all the songs sung on the show are all empowering and positive. The songs sung by Julie and the boys are some of the absolute best. From the second they perform their first song, "Bright," you know that you're watching something special. "Edge of Great" is an anthem for someone who is blossoming The chemistry between the four of them is palpable, but especially between Julie and Luke. Both of them are teens who found their life's passion early so they get each other in a way that many others may not. When you hear the song "Perfect Harmony," which was actually written by Madison Reyes and Charlie Gillespie (who plays Luke), you feel like you're spying on an incredibly personal moment between the two.
Julie And The Phantoms Netflix GIF from Julieandthephantoms GIFs
But the song that is wrecking everyone who watches the show is "Unsaid Emily." Every time I watch that scene, I sob. Luke has been elusive about his past outside of the band until this moment. After it's revealed to Julie by Alex and Reggie that Luke had an estranged relationship with his parents before his death, Julie decides that his parents need to know their son's talent. So she shows up with the lyrics to a song Luke wrote about the fight with his mom that tore his family apart. The rest of the scene plays in flashback as Luke sings and the audience is given the only taste of one of the boys' past. You're going to need tissues.
At its core, Julie and the Phantoms is about love. You get the love of family, whether that's the family you're born into or the family you make. There are the buds of potential romantic love (thank goodness for season 2.) And most importantly, there's the love of your passion and how that can transform you. Allowing yourself to experience that kind of love is a radical form of self-love. Love is what drives us forward, no matter what form. It's important to celebrate that as much as you can.
Julie and the Phantoms is now streaming on Netflix.