Why Julie Delpy Likens Her New Show to a 'Dog With Three Legs'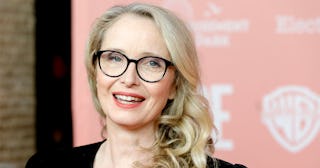 Isa Foltin/WireImage/Getty
On the Verge, now streaming on Netflix, is an outlier for many reasons. It stars four women, all over the age of 40, with libidos and desires and ambitions and insecurities. They have wrinkles. And muffin tops. And negative bank balances. They're at times ambivalent about motherhood. And none of them are named Meryl Streep.
The show is the brainchild of Julie Delpy, the deeply expressive and articulate star and co-writer of the flawless and timeless Before Sunset trilogy, who set out to create a series that, she tells me, was "truthful to women, and they're not perfect. They are full of flaws. They haven't figured out everything."
Which is one of the reasons that Delpy assembled Alexia Landeau, Elisabeth Shue, and Sarah Jones, in the middle of a global pandemic, to shoot what she calls "a dog with three legs. It was not easy. We did it during the pandemic, which was, you know, an extra cherry on the cake — to make it more complicated. It's not easy to do a show about women that age. It's a show about middle-aged women."
Delpy plays Justine, a powerhouse chef who overshadows her sniveling husband, a verbally abusive failed architect who deeply resents his wife's success. At home, she's the proverbial doormat. Her erosion of confidence and self-esteem isn't instantaneous. It's slow and corrosive and hidden under the guise of care, as Martin tells Justine that losing weight, for example, wouldn't be a terrible idea.
"She's totally empowered at work and a mess at home. But I also feel bad for him. He's so insecure. He's insecure, but he's making her life miserable. That's the reality," says Delpy, 51.
She sees some parallels between herself and Justine, most notably in their unabashed desire to succeed.
"Justine is driven because she has to feed her family. No one's making money for her. She's not married to a rich guy. He's making no money. He would have been mega successful if he hadn't left Paris for her and of course would be the greatest architect alive. So it's her fault. She destroyed his career and she feels extremely guilty about that," says Delpy.
Delpy has a son, Leo, 12, with German composer Marc Streitenfeld. And because Delpy is not part of a storied Hollywood dynasty, with financial cushioning and nepotism aplenty, she works because there's no other option.
"I am driven, but I'm also driven by the fact that I also need to make a living. I'm a working woman. I have no money from my family. My parents were extremely poor when I was born," she says. "My parents were struggling. It wasn't an unhappy life, but it was an extremely poor life. Justine says it to her son at one point: If I stopped working, we'll lose everything. The truth is if I stop working for a few years, I'm done."
Mostly, women in their 40s are relegated to being the sidekick: The long-suffering wife, the comic relief, the quirky best friend. And Delpy is no superwoman: She's wary of being criticized, and leery of having to defend characters that aren't "cookie-cutter perfect."
After all, "You wouldn't say do not watch Curb Your Enthusiasm because the character is unlikable. As a woman, it's very, very hard. Especially as you get older, it's easier to be labeled and people are very quick at it and I think it's still acceptable to do it. Just because the reality is being a woman of my age and our age is really, really, really not something that people really like. And especially women that are natural."
And even more especially women who love their kids, but perhaps aren't natural mothers. Whatever that means. One character coddles her child to the point of ickiness. Another turns her kids into a reality show because she's flat broke. A third seems willfully oblivious to what's going on right under her perky nose.
"The characters of the women here, they do enjoy being mothers. They don't always know how to be perfect mothers. For me, they're actually not bad mothers. They're good mothers, but they sometimes do the wrong thing. You know how some people mean well, but don't always know how to do it," says Delpy.
She adds: "I love being a mother. And I think I'm a good mother in my limitation of who I am — I'll never be someone who is completely level-headed at all time. I'll never be always calm, always relaxed and be like, it's okay. You know, I hear my son telling me something about a kid that says something nasty to him. I'm always in a position of protecting him. I think I'm a good mother because I'm extremely protective. Am I the perfect mother? No, but who is? As long as you don't mess them up psychologically too much, you're doing a good job."
As for her other job, Delpy is a realist. Yes, her show is hilarious and thoughtful and smart and offbeat and centered around women who generally don't get starring roles in glossy productions. But she also knows that for her to get a second season, On the Verge has to be twice as good and five times as successful as something involving a superhero: "We'll see if anyone wants that three-legged dog from the pound."