Derek Chauvin Found Guilty On All 3 Counts In Death Of George Floyd
by Valerie Williams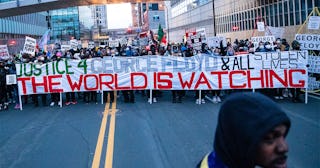 Jason Armond/Los Angeles Times/Getty
The jury in the trial of former Minneapolis police officer Derek Chauvin has reached a verdict of guilty on all counts after deliberating since last night
After three weeks of often heartbreaking testimony, a jury of seven women and five men have reached a verdict in the trial of Derek Chauvin, the ex-police officer charged with second- and third-degree murder and second-degree manslaughter in the death of George Floyd last year. Chauvin was found guilty on all counts. The jury began deliberating last night and finished today with a total of about 11 hours spent on the decision.
Floyd's tragic death last May at the hands of Chauvin touched off a summer of protests and outrage against police brutality and racial injustice. Video of his horrific final moments quickly went viral, showing Chauvin kneeling on Floyd's neck for over nine minutes as the man begged for his life, saying over and over that he couldn't breathe. The prosecution argued that it was Chauvin's actions that led to Floyd's death with the defense asserting that illegal drugs and a heart condition were to blame. The prosecution called a total of 38 witnesses including a teen who filmed the bystander video that got so much attention for Floyd's death. The defense only called seven witnesses.
The second-degree murder charge carries a maximum sentence of 40 years, third-degree murder carries a maximum sentence of 25 years, and second-degree manslaughter carries a sentence of up to 10 years.
Reacts to the news were quick — and the overwhelming feeling is one of relief.
But many people were quick to point out that we never should've doubted this would be the result when there is actual video of the crime.
Ahead of the verdict, schools in the Minneapolis area went virtual for the rest of this week and businesses boarded up their windows, all in anticipation of potential violence and disruption. The courthouse had National Guard troops on patrol with the building surrounded by concrete barriers and razor wire.
The April 11 deadly police shooting during a traffic stop in nearby Brooklyn Center of a Black man, 20-year-old Daunte Wright, only served to fuel tensions further as the Chauvin trial continued.
Earlier today, President Biden expressed hope for the "right verdict" in the former cop's trial. "I'm praying the verdict is the right verdict, which I think it's overwhelming in my view," he said.