Jussie Smollett Has Been Indicted On 16 Felony Counts
by Cassandra Stone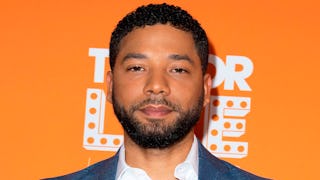 Image via VALERIE MACON/AFP/Getty Images
The 'Empire' actor has been indicted by a grand jury for allegedly lying to police back in January
Jussie Smollett, the television actor famous for his work in the show Empire, has been indicted by a grand jury in Chicago on 16 felony counts. He's been charged for allegedly lying to police about being the victim of a racist and homophobic hate crime.
Smollett was initially charged with felony disorderly conduct for the allegedly filing a false police report with the Chicago police back in January. According to the Cook County State Attorney's Office, he claims he was assaulted by two masked men in MAGA hats who screamed racist and homophobic slurs at him
According to the 86-page indictment, the grand jury charged Smollett with 15 additional counts of filing a false report. While the new charges don't carry any extra prison time, he could end up on probation for four years.
Smollett and his attorneys have denied the allegations against him from the beginning. One of his lawyers, Mark Gergaos, says he and the rest of the legal team will be pushing back against Chicago police. "The way that this has played out, there was a motivation to do damage to him, and we'll prove that," Gergaos says.
Smollett said his attackers poured what he believed was bleach over him and put a noose around his neck. Authorities investigated the case a potential hate crime at the time. Chicago police spokesman Anthony Guglielmi told NBC News at the time of his arrest in late February that the investigation into the alleged attack demanded "considerable" police resources. He said that at one point the department had 12 detectives scouring surveillance videos.
Many people on social media are conflicted about this case — some believe the police and trust they have sufficient evidence to back up the charges, while others believe the police have jumped the gun on charging him.
https://twitter.com/jetpack/status/1104143473370755072https://twitter.com/jetpack/status/1104170452799250433
While none of us can say for certain whether this entire incident was an elaborate hoax orchestrated by Jussie Smollett himself or whether the Chicago police have made an egregious error — only time and evidence will tell for sure, it's not looking promising for Smollett at the moment. Even greater than that, however, is the impact this has on victims in general.
In reality, false reports of crimes are rare. There aren't a lot of actual statistics about the rate at which crimes are falsely reported, but Brian Levin, director of The Center for the Study of Hate and Extremism at California State University in San Bernardino, told reporters in 2017 that false reports make up a "sliver" of all reported crimes.
According to the Bureau of Justice Statistics estimates, more than 100,000 hate crimes are committed in the U.S. each year that aren't reported to the police. The fear of not being believed is something that stops victims of both hate crimes and sexual assault from coming forward.
Regardless of the eventual outcome of the Smollett case, we need to continue to believe victims and take them for their word. Always. It's far, far better for humanity to have a kneejerk empathetic, active reaction than to dismiss the truth and pain of victims entirely.