Delivery Man Sends Unsolicited Texts To Woman He Just Brought Food To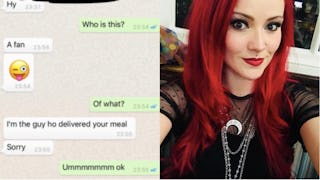 Images via Michelle Midwinter
Company offered her a $7 discount for harassment
We love meal delivery apps — they're easy, convenient, and allow us to have cake delivered to our house within an hour. But there's a downside to this convenience, and that downside is that it puts women in danger (because doesn't everything?) That's what one woman experienced this weekend with one delivery service, and their response to her complaint was underwhelming, to say the least.
Yesterday, 33-year-old Michelle Midwinter and a friend ordered food from Just Eat, a British meal delivery service. She wrote a post on Twitter about what happened after her meal was delivered:
According to Michelle, the driver just stared at her when she answered the door, which she assumed was because, according to a press release she issued later, he was angry that "I'd kept him waiting a long time." Later, however, she received a message via WhatsApp from a number she didn't recognize that said, "Hy. [sic]" "Who is this," she replied. "A fan," he wrote, with an emoji of a face winking with its tongue hanging out. "Of what," she asked, still not understanding who was contacting her. "I'm the guy who delivered your meal," he wrote.
"If you have a bf tell me I don't want to make any problems," he continued. "Goodnight bby [sic] see you next time when I get your meal." He ended with an image of a lipstick print of a kiss. Midwinter replied, "I'm literally never ordering from there ever again."
I'm not sure how anyone can see these texts as anything short of infuriating, threatening, and terrifying. A man who has her name, address, phone number, and knows what she looks like sent her harassing text messages. And not only does he have all of this private information, he also clearly has a poor understanding of boundaries since he's contacting customers for personal reasons, something that has to be against Just Eat's policies. And if it isn't, it should be.
Midwinter was furious.
She contacted Just Eat via their live chat and talked with "Trixie," who wrote that "The best thing to do is to give the restaurant feedback by leaving a review on Just Eat. Try and be constructive — we discuss reviews (good and bad) with restaurants and it helps them improve their service." Be constructive my ass. This wasn't a review of the Sweet and Sour Chicken, this was a complaint about harassment.
"I actually spat my tea out because I wasn't expecting that response," Midwinter tells Scary Mommy.
When Midwinter told her that was not going to work, Trixie, who shared that Just Eat doesn't "have a complaints department," told Midwinter, "For the inconvenience, Just Eat will offer you a £5 goodwill voucher which you can use on your next order." (£5 is about $7 in American money.) When Midwinter answered by saying, "It's not 'an inconvenience' it's absolutely outrageous and appalling behavior," Trixie replied, "We don't usually do this but I can offer you a goodwill voucher worth £10."
Here, please accept this rock as my apology for robbing your house. No good? I'll make it two rocks but you're really busting my balls.
This woman just had her privacy breached by a driver from this service, and their response is to give her a $14 discount off another order? Do they not see how this is a) insulting, b) inadequate, and c) nowhere near addresses the problem?
To make things worse, Midwinter learned after sharing her story on Facebook that two of her acquaintances had the same experience with the same driver. "I wonder how many other females reached out to Just Eat and received a similar response," she wrote.
Midwinter's post has also brought to light how common this kind of harassment is for female customers of meal delivery services.
https://twitter.com/jetpack/status/953266743245451265
https://twitter.com/jetpack/status/953326699457990656
Today, the Information Commissioner's Office, an independent authority in Britain whose mission is to protect the personal data of the public, caught wind of the situation and sent out the following tweet:
Midwinter tells Scary Mommy that she spoke with Graham Corfield, the managing director of Just Eat earlier today: "He was utterly appalled that this was the response I got in the first place and they are immediately retraining all of their staff," she shares. "They have outlined to me the action they are going to take and are going to keep me informed on what they do and the changes they make."
We're grateful to Midwinter for making her experience public. Now, it's time for companies to make whatever changes are needed to prevent these kinds of situations from happening. "I now realize we have to consider the bigger picture," she writes. "This is no longer about my personal experience, this is about every single female who has been victimized in this way by someone from a company we put our trust in."
"I hope this whole incident will bring about change and help protect women from suffering a much worse fate than mine."