Justice Ruth Bader Ginsburg Was Treated For Pancreatic Cancer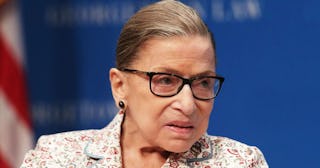 Alex Wong/Getty
This bout with pancreatic cancer comes less than a year after Ruth Bader Ginsburg was treated for lung cancer
The Supreme Court announced today that Justice Ruth Bader Ginsburg was treated for pancreatic cancer in New York City this summer.
"The tumor was treated definitively and there is no evidence of disease elsewhere in the body," the court said. The Justice finished three weeks of radiation treatment at Memorial Sloan Kettering Cancer Center in New York. The treatments, conducted on an outpatient basis, started on August 5 and are now complete.
"Justice Ruth Bader Ginsburg today completed a three-week course of stereotactic ablative radiation therapy at Memorial Sloan Kettering Cancer Center in New York City," the Supreme Court's statement read. "The focused radiation treatment began on August 5 and was administered on an outpatient basis to treat a tumor on her pancreas. The abnormality was first detected after a routine blood test in early July, and a biopsy performed on July 31 at Sloan Kettering confirmed a localized malignant tumor."
Their statement explains that the treatments only slowed Ginsburg down a little bit — she missed her summer vacation but otherwise, kept to her schedule. "As part of her treatment, a bile duct stent was placed. The Justice tolerated treatment well. She cancelled her annual summer visit to Santa Fe, but has otherwise maintained an active schedule. The tumor was treated definitively and there is no evidence of disease elsewhere in the body. Justice Ginsburg will continue to have periodic blood tests and scans. No further treatment is needed at this time," they announce.
Of course, it's a huge relief to hear that Ginsburg, who is 85 years old and has been on the bench of the Supreme Court since 1993, requires no further treatment. However, it's definitely unsettling for people to hear that the beloved liberal icon has had to undergone cancer treatments for the fourth time. The most recent was just this past winter when Ginsburg was treated for lung cancer that was discovered during an x-ray after she fell and broke three ribs. The Justice also had early-stage colon and pancreatic cancers that were discovered and treated in 1999 and 2009, respectively.
One of our favorite things about the inimitable Ginsburg is her wry sense of humor and totally unflappable attitude. We got a taste of that recently when she interviewed with NPR and discussed one of her prior cancers — and a senator's callous reaction. "There was a senator, I think it was after my pancreatic cancer, who announced with great glee that I was going to be dead within six months," Ginsburg said. "That senator, whose name I have forgotten, is now himself dead, and I," she added smiling, "am very much alive."
NPR notes that the Justice has 11 public events on her September calendar and none have been canceled, so that sounds like a sign that she's feeling well. She's also hired law clerks through year 2020.