Justin Guarini And Kelly Clarkson Reunite For The First Time In Years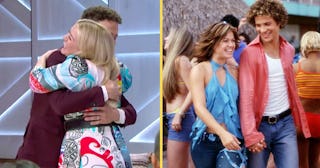 NBC/Youtube and Twentieth Century Fox
Justin Guarini and Kelly Clarkson reunited and did someone set the time machine to 2002?
If you're still waiting for a sequel to the 2003 classic From Justin to Kelly, we've got the next best thing — a reunion between its two stars, Kelly Clarkson and Justin Guarini. Thanks to Clarkson's new talk show, we get to see the pair hanging out together for a chat for the first time in years. 2002 called and it sounds so good we wanna go back.
Guarini made his appearance on the show but first, several past Idols sent pre-recorded wishes to Clarkson on the start of her new show along with life updates on what they've been up to since being a contestant. And then, the moment we set our DVRs for — the reunion we had no idea we needed.
Oh, and did we mention the original trio of judges made an appearance too? That's right — we got to see the gang together again. Simon Cowell, Paula Abdul, and Randy Jackson on a couch opposite the pair just chatting away like 17 years hadn't gone by.
Then, Justin broke the ice with what probably everyone was thinking: "Thank god that we're so much more than that movie!"
Um, I'm sorry, we kind of LOVED that movie.
Guarini then gushed over his joyful memories of being able to perform on AI and that, "17 years later, I get to still do it, being on Broadway, television commercials, all kinds of stuff…"
At this point, Clarkson interrupts him to tell him how hilarious he is in his Diet Dr. Pepper slots, and honestly, he is. I had no idea it was him at first and once I found out, it made them 10 times funnier.
Then, the judges chimed in with Cowell praising Guarini's talent. Of his audition all those years ago, the famed cranky judge said, "When you walked out of the room, we literally went, 'Thank you, god,' because at that point, things weren't going great on the show."
Can we please just make it 2002 again and watch Justin and Kelly fight to the finish? Such simple times.
We doubt a sequel to their movie will ever happen, but if they could just co-host Clarkson's show together on a regular basis that would be pretty great. Their sweet relationship makes their banter so easy and natural, we could legit watch them all day. Or, we could just watch From Justin to Kelly on repeat.