Justin Timberlake & 25,000 Fans Sing Happy Birthday To Boy With Autism
by Scary Mommy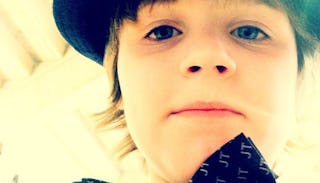 Birthdays when your child is autistic aren't always the happiest of events. This isn't one of those times.
All Marika Rosenthal Delan's autistic son, Julian, wanted for his eighth birthday was to see a Justin Timberlake concert.
Marika and her husband, had great hesitations about his wish. "It was my son's only gift request this year," Marika wrote. "Well, that and Benny Spaceship Spaceship from the Lego Movie. And while everyone knows I love Legos above all toys, Justin Timberlake was decidedly more appealing." (Can't argue with that!) She goes on:
"Even as his parents, my husband and I have taken a long while to understand. We didn't get it, not until last year anyway, when we discovered that Julian had high functioning autism. It's why he passed the screenings despite our suspicions and denial that something wasn't quite right. It's why it took us so long to acknowledge and put our finger on what was wrong. This boy that seemed academically so advanced and emotionally so far behind. This boy that still bites his fingers when he gets excited and has emotional outbursts like he's going on 5, not 8. This boy who wanted nothing but the JT 20/20 Experience for his birthday.
My worry was if his Dad and I were still figuring him out, how were all these people around us going to understand him or the fact that he might say the same things over and over all night or knock over their beer, or the fact that he could listen to Sexyback 6000 times and never get sick of it? And trust me when I tell you this summer I learned that is, in fact, entirely possible."
Watch below as Justin Timberlake, along with 25,000 fans, gives Julian the birthday of a lifetime.
And now go rock out to Justin Timberlake in your kitchen. You know you want to.
Read more at themanifeststation.
This article was originally published on