Justin Timberlake And Jessica Biel's 'Toy Story' Getup Was Epic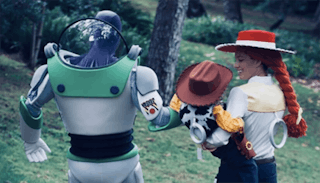 Image via Instagram
Justin Timberlake and Jessica Biel channel 'Toy Story' for Halloween 2017
Either you love Halloween, or you don't. We can probably plant the Timberlake/Biel family solidly in the "love" column.
Last year, the adorable family dressed up as characters from Timberlake's movie, Trolls.
This year, they managed to outdo themselves by channeling all of our favorite characters from Toy Story; Timberlake as Buzz Lightyear, Biel as Jessie, and little two-year-old Silas as Woody.
"If you see us in these streets then have your candy ready! Trick-Or-Treat, little homies!" wrote Timberlake on the photo he shared to his Instagram account.
Biel shared a few, too.
"Clearly Lil Woody is the boss of this Halloween rodeo," she wrote.
"All geared up and ready for action," Biel captioned another photo. "Plus I may go hit on that Buzz." Yeah. We don't blame you.
Keep the adorable family costumes going. Nothing is better as a kid than having your whole family get excited for Halloween.
This article was originally published on