Justin Timberlake Responds To Children's Hospital Viral Video -- By Surprising Kids Who Made It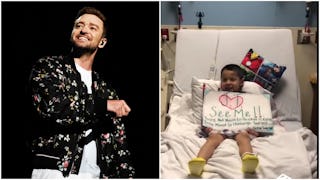 Image via Kevin Mazur/Getty/Methodist Children's Hospital/YouTube
Justin Timberlake paid a surprise visit to cancer patients at a children's hospital
Want some extra sunshine in your pocket? Patients at Methodist Children's Hospital in San Antonio, Texas created a viral video asking Justin Timberlake to stop by while he was in town for a concert. Much to their surprise, the singer took them up on their offer and headed over for some selfies, autographs, and one-on-one chats. The kids' reactions were completely priceless.
Let's kick off with the video that started it all. Patients at Methodist Children's Hospital campaigned for Timberlake to visit them by filming themselves dancing to "Can't Stop The Feeling" and holding handmade signs that read "JT See Me." The clip was posted to YouTube, racked up more than 40,000 views, and caught the singer's attention. On Friday afternoon, he dropped by and made a bunch of kids very, very happy.
Prepare to experience all kinds of joy from the pictures below. There were so many smiles, so many selfies, and one picture of Justin Timberlake giving a baby a high-five, which is a sight we should see every day, TBH.
Annabella Lugosi, whose 4-year-old son is being treated for cancer at the hospital, told TODAY that Timberlake "took time with each individual child in his or her own room."
"He was so humble, and you could really tell that this wasn't for publicity or anything like that," she said. "He genuinely wanted to be a bright spot in these kids' lives for a day."
Lugosi added that Timberlake waved pompoms during one patient's "final treatment" celebration, which involves a parade down the oncology hall and the ringing of a bell. "They make it a really big, special deal, and it's really cool that Justin was able to be involved in that celebration yesterday."
The outpouring of admiration was mutual. A quick video was captured of Timberlake walking through the halls, saying: "It's amazing. The kids are so strong. It's inspirational."
But that wasn't all. Timberlake invited a patient named Maria to be his guest at his San Antonio concert. She donned her "Team Timberlake" sweatshirt and was given the full VIP experience, including a limo ride, amazing seats, and a special shout-out from the singer during his set.
The hospital took to Facebook to express their gratitude to Timberlake for taking the time to visit. "We want to thank Justin Timberlake for visiting with our amazing kids and their families!" the hospital wrote. "We also want to say thank you to YOU! for helping make this possible by sharing and liking their video. #JTSawMe."
Sigh. Forever grateful for one positive internet story today.