Justin Timberlake Defends Pink Against Trolls And It'll Melt Your Heart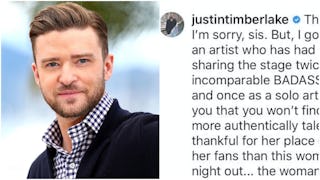 Image via Andreas Rentz/Getty/Instagram
Justin Timberlake stood up for Pink after she canceled her show
Pink has an army of fans and Justin Timberlake in her corner. The singer got flack when she was spotted on the beach with her kid after she postponed a concert due to illness. Pink quickly cleared the air and JT hopped into the comment section to share some sweet words.
A quick recap. After The Daily Telegraph ran pictures of Pink at the beach and tried to call her out for lying, she took to Instagram to explain the whole situation.
"What these parasite paparazzi don't show you, is two doctor visits in Byron on two consecutive days, antibiotics, steroids, Vick's, nose spray, throat spray, more steroids, NyQuil, a screaming baby in the middle of the night, every night, while mama gives him warm baths and tells her daughter everything is fine," Pink wrote. "…I have never fucked off while disrespecting hard working people who spend money to come see me play."
Most people in the comment section had only kind, supportive, and thoughtful words for the singer. Justin Timberlake was one of them. The singer penned a loving note to his friend, and doubled down on how incredible her work ethic is.
"As an artist who has had the fortune of sharing the stage twice on tour with this incomparable BADASS (once with 'NSync and once as a solo artist), I'm here to tell you that you won't find a harder working, more authentically talented, and more thankful for her place on that stage and her fans than this woman," he wrote.
The singer went onto say that being a parent on tour is rough – and he's in complete awe of the moms who do it all. "I say HATS OFF to you, my friend," Timberlake wrote. "I don't know how Moms/Artists like you exist….Wishing you full health and speedy recovery, Pink! Shine on, sis!!!!"
Yes, JT, YES.
Hopefully, the whole family feels better soon and — if they don't — Pink can take her damn time returning to the stage. We'll all just be listening to "Beautiful Trauma" on repeat, and hoping that she keeps shinin' on.
This article was originally published on