Justin Timberlake Stops Concert To Help Fan Announce The Sex Of Her Baby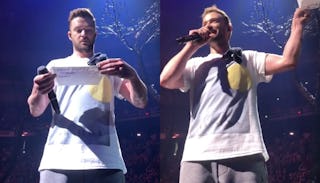 Image via Instagram/Maddie Putrino
Is there nothing this man can't do?
Sharing in some dramatic fashion whether your baby's a boy or girl seems to be all the rage these days. Some couples have family and friends involved, releasing balloons, baking cakes, all in the name of revealing blue or pink. And as long as you're gonna have someone help reveal the sex of your baby, you might as we'll enlist the help of Justin Timberlake.
"It's a girl!!! Thank you so much @justintimberlake for helping me announce," Maddie Putrino wrote on Instagram. "I had the most amazing night." Putrino, who is pregnant, attended a Timberlake concert in Albany, New York and why not ask the singer (and dad) to get in on the fun?
She held a sign reading, "Justin, Gender Reveal Selfie? Young Man or Señiorita?" During the concert, JT spotted Putrino's sign and agreed to a little more than a selfie. But you really have to watch the video to see it in all its glory.
https://www.instagram.com/p/BpLiHxBFjXH/?utm_source=ig_embed
After letting the the audience know what was up, he grabbed the piece of paper that Putrino had written her baby's sex on and said all sweaty and sexy-like, "It's a girl." Obviously everyone screamed and cheered, then he bent over and gave Putrino her card back and said, "Congratulations."
Why is he so cute, though.
Timberlake, who is dad to son Silas with wife Jessica Biel, is a man of many talents — singer, songwriter, dancer, actor, and all around sexiest man that's ever lived. He's also not a stranger to helping fans make their baby news dreams come true. Last year he helped another concert goer announce her pregnancy on stage.
He's also not shy about his own parenting highs and lows, including potty training fails, teaching their son the correct anatomical parts, and getting shamed for his son's hair because, people. So, it just makes sense he would be the one to share in such a fun moment with a mom-to-be.
"I was in complete shock!" Putrino told Babble. "I thought he was going to just take a picture with me, but he really just stopped the whole show to tell the whole audience."
Of course he did. He's Justin Timberlake, a gift to us all.