Justin Timberlake's Anniversary Tribute To Jessica Biel Is Melting The Internet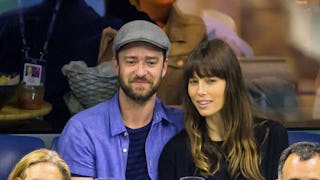 Image via Jackson Lee/WireImage
"You've taught me what true love means."
Just when you thought you couldn't love Justin Timberlake anymore, he gives a public shoutout to his wife Jessica Biel for their fifth anniversary. Where he dedicated a song he's singing to her. Because sometimes love is good and we can have nice things.
In an Instagram post that shows a series of video snippets of Timberlake in the studio, he talks about how special it is to be back and "cooking" up some new stuff for his fans. And then he gives a special mention to his biggest fan (hint: it's his wife) and now we're dying.
"But, today is even more special for me because five years ago, on this day, I became the luckiest man in the world when I exchanged vows with my best friend," he wrote in the caption. "This song was our first dance."
Timberlake and Biel do acknowledge their love and relationship on social media from time to time, but they're definitely not "in your face" about it. Which kind of makes you admire and respect them even more, doesn't it? So to see him directly address her this way, and share something so intimate for the two of them is really sweet. They married in 2012 at an Italian resort (as one does) and they're also parents to 2 1/2 year old Silas.
"To my beautiful Jessica: You have taught me so much about what a true love means," Timberlake continued in his anniversary post. "I can't put into words what these last five years have meant to me, so… 'Listen to the melody 'cause my love is in there hiding. #Happy5thAnniversaryWifey #ASongForYou."
This article was originally published on