Justin Timberlake's Birthday Message To Jessica Biel Will Melt Your Entire Heart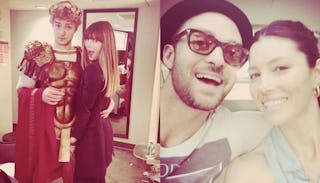 Image via Justin Timberlake/Instagram
Justin Timberlake's out there embodying #husbandgoals with his birthday message to Jessica Biel
There are some famous men who appear to be absolute dream husbands and Justin Timberlake definitely falls into that category. He's long made a habit of gushing over wife Jessica Biel on Instagram (because hello, look at her, why wouldn't he?) and his latest post in honor of her birthday is possibly his cutest yet.
"My partner in this thang called life… you are the most wonderful human I have ever met," he writes. "You make me smile, laugh, and love life more than I knew I could. I cherish every moment with you and can't wait to spend so many more years doing the same… but, new. Happy Birthday, you GOD OF ALL SMOKE SHOWS!! Love, Your Huz."
We cannot even.
His post included several snaps of the ridiculously cute couple looking extremely couple-y.
This is FAR from the first time he's made us all swoon by shouting his love for Biel to the world through his Instagram account. Let's take a tour, shall we?
His Valentine's Day note is short, but sweet. And not that an unflattering photo of Biel even exists, but major props to him for always posting ones where she looks particularly stunning. That's just good husband-ing.
Yet another sappy birthday post that left us with literal heart eyes. "Ask me who the luckiest guy in the world is and I will tell you that you are looking at him." Our entire hearts.
Oh, just out there killing it on Mother's Day making sure Biel knows exactly how much her husband appreciates her hard work raising their little guy. "Thank you for giving me the greatest gift and continuing to show him what it means to be a good person in the world. You make me realize how much my own Mother has done for me," he gushes.
An anniversary serenade, NBD.
HOWEVAH. It's clear that lovey-dovey social media shouts are just par for the course in their adorable relationship. Biel is no stranger either when it comes to telling the world how amazing her hubs is on his birthday.
The Timberlake-Biel family are eternal marriage goals and we're so glad they share their adorableness with all of us, if only so we have something to screenshot and text to our husbands as not-so-subtle hints that they should step it up a tad.