There Are Now Lullaby Versions Of Justin Timberlake Songs For Your Fussy Babies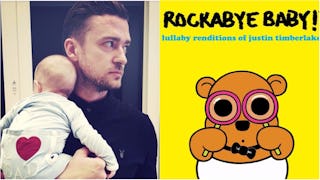 Image via Instagram/Justin Timberlake
Justin Timberlake singing to our babies is all we ever needed
We didn't think Justin Timberlake could get any better than his days in NSYNC with his mop of curls and head to toe denim awards show outfits. Then he started on a solo career, grew up, got even hotter and we thought this was his pinnacle. Then he started acting in movies and appearing on Saturday Night Live with his dick in a box and we were sure he'd reached maximum adorableness. Except now he's releasing an album of lullaby versions of his popular songs and this — this we are sure folks — is the Holy Grail.
Timberlake, the 36-year-old Swiss army knife of entertainment, became a father back in 2015 to baby Silas with his gorgeous wife Jessica Biel. And it seems fatherhood has had an impact. Rockabye Baby, the company that produces baby-friendly versions of popular songs from folks like the Beatles to The Doors and even Beyonce, just announced its next album – and it's all JT baby.
If you have kids, you are already familiar with his track "Can't Stop The Feeling" from the movie Trolls, which I've personally listened to 1,632 times. But this new album will feature some of his famous tunes like "Suit & Tie," "Bye Bye Bye," "Drink You Away," (which sounds like the true story of my first year with a colicky baby) and he's even bringing "Sexy Back" to parents and children of the next generation.
Timberlake, who has called his son "the greatest gift ever," has been open about fatherhood thus far. And while he might look like the perfect dad and perfect human being in general, he's been open about life as a new dad admitting, "At first, it broke me down. Those first eight months felt like those old [Ed Sullivan] shows where people are balancing spinning plates on poles — except if you drop one, they die."
Luckily for all future parents they will now have JT lullaby songs to soothe them during the difficult times. If your kid can't sleep or is fussy, just throw on some "Cry Me A River" and remember — this too, shall pass. Or start crying right along with them because you've had three hours of sleep in the past 12 days. Either way, Justin Timberlake will be singing sweet melodies in your ear which makes everything better.
His album, which will be released August 18, is now available for pre-order. It sort of makes us want to have another baby. Sort of.