Justin Timberlake Visits Victims Of Santa Fe Shooting In Hospital
by Cassandra Stone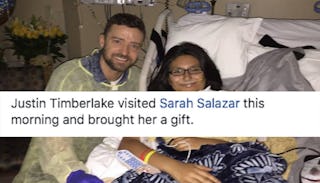 Image via Facebook/Sonia-Lopez-Puentes
He also dedicated a song to Santa Fe High School during his Texas concert
During his Man of the Woods tour stop in Texas this week, Justin Timerlake was seen visiting victims of the Santa Fe school shooting in the hospital. He also dedicated a song to Santa Fe high school in an emotional tribute honoring victims during his Houston concert.
Sonia Lopez-Puentes, mom to Sarah Salazar, one of the victims who survived the latest horrific school shooting, shared a sweet photo of the singer visiting her daughter on Friday.
Twitter user Page Dean thanked him for visiting her family members during his visit as well.
Two days earlier, during his concert in Houston, Timberlake took a few moments to acknowledge the victims of the shooting. He asked the crowd to raise their cell phones in the air before dedicating the popular ballad, "Until the End of Time" to the victims.
"We're gonna light the whole arena, this whole city up for Santa Fe High School," he said. "Let those angels hear you up there." He also wore a t-shirt with the words "Texas Strong" written on it throughout the concert. Before this touching tribute, Timberlake has been making sure his fans know how important they are to him — even his octogenarian superfans.
Eight students and two teachers were killed during the Santa Fe school shooting. The alleged shooter, 17-year-old Dimitrios Pagourtzis, has remained in custody since the massacre.
The grief and overwhelming terror the students and families must feel after a tragedy like this is unfathomable to those who haven't experienced it, and absolutely nothing can ease the pain after such a violent loss of lives in a community. Hopefully Timberlake's visit gave the students and their families some much-needed lightness and a smile or two.
This article was originally published on